Welcome to the Year 6 page of the website. We hope you enjoy reading about our learning.
Class Teacher: Mrs H. Hilditch
Learning Support Assistant: Mrs Howarth
5-7th November 2018 - Robinwood
Our time at Robinwood has been amazing once again. We have been able to work as a team to face our fears and overcome a variety of challenges. Many of us faced our own personal challenges in many different ways, for some it was a particular activity - heights, water, or darkness but for others it was simply being away from our families overnight. But we did it and feel so proud of ourselves. Overall, we all worked well together and formed friendships and memories that we can treasure for the rest of our lives.
Wednesday 24th October 2018
Over the last few weeks we have been learning about World War Two and the impact that it had on the people involved, especially the British. We have been researching our family history and sharing this with each other. This week, we have also been thinking about what it might have been like for the British civilians waking up after another night of devastation - the Blitz, which happened night after night for weeks.
Caitlin wrote this:
As I woke, I could feel my open wounds, seeping with blood. Immediately, I stood up and wandered out into the street to measure the scale of damage that had been inflicted upon us. The whole city was parched of its vibrant colour; plunged into a pit of darkness, empty buildings, empty souls with nothing to look forward to. I too, could feel myself slowly being suffocated by the deadly blanket of smoke that had been laid over London. The state of devastation was immense, yet all I could see were faces of determination. Children longing to be reunited with their families. Parents crying out, searching for their children. I had never seen anything quite like this. Once again, my city had bound together to fight back, and fight back we will! Nothing will stop us. We will not be beaten.
Friday 12th October 2018
Today we have been to celebrate our Harvest Festival at St. Paul's Church. This week, we wrote an acrostic poem as a class and some of us were chosen to read it out in church.
Harvest is a time of celebration – gathering crops, gathering together.
Autumn leaves are falling, golden colours everywhere.
Reaping, gathering and storing the grain.
Vegetables, fruit and food for all.
Everybody enjoying the food that we share.
Sharing and caring with those around us.
Thank you God for our Harvest Festival.
Harvest – A time of celebration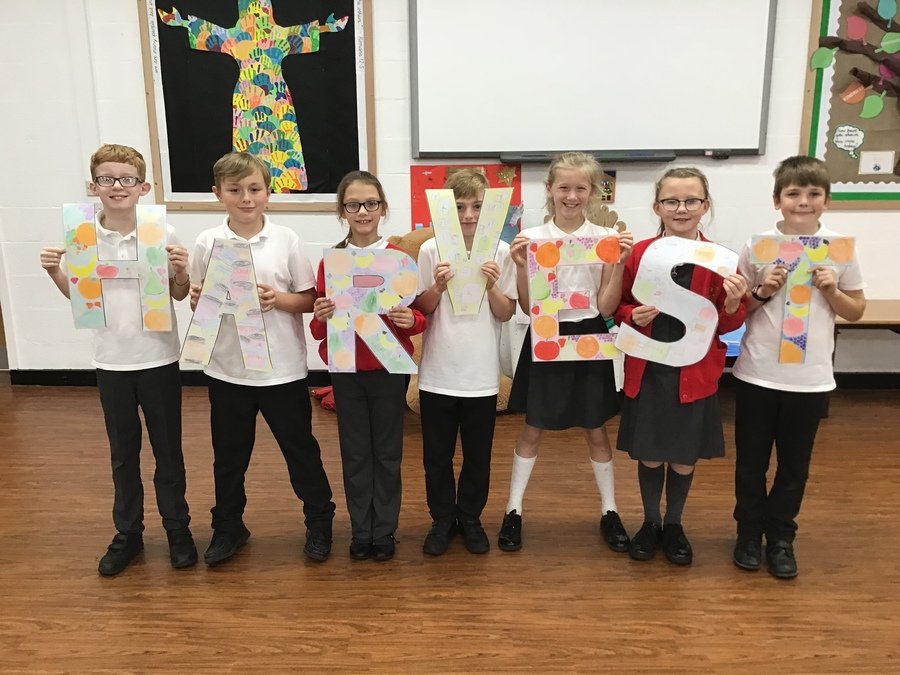 Friday 21st September 2018
Our Science topic this half term is Evolution and Inheritance. We started off the topic by thinking about the evolution of biscuits. We had to think about a range of biscuits and discuss which biscuit was designed and created most recently to one of the first biscuit designs made. After the discussion, we formed a scientific enquiry predicting which biscuit would be the strongest. Many of us thought that the Ginger Nut would be the strongest as it was one of the hardest biscuits to bite. We tested our theory by counting the number of dunks it took for the biscuit to break.
Friday 14th September 2018
What a fantastic start to the term! 100% attendance for our class and a chance to spend the week with attendance bear. Remember our door opens at 8:50am for an extra ten minutes of learning each day.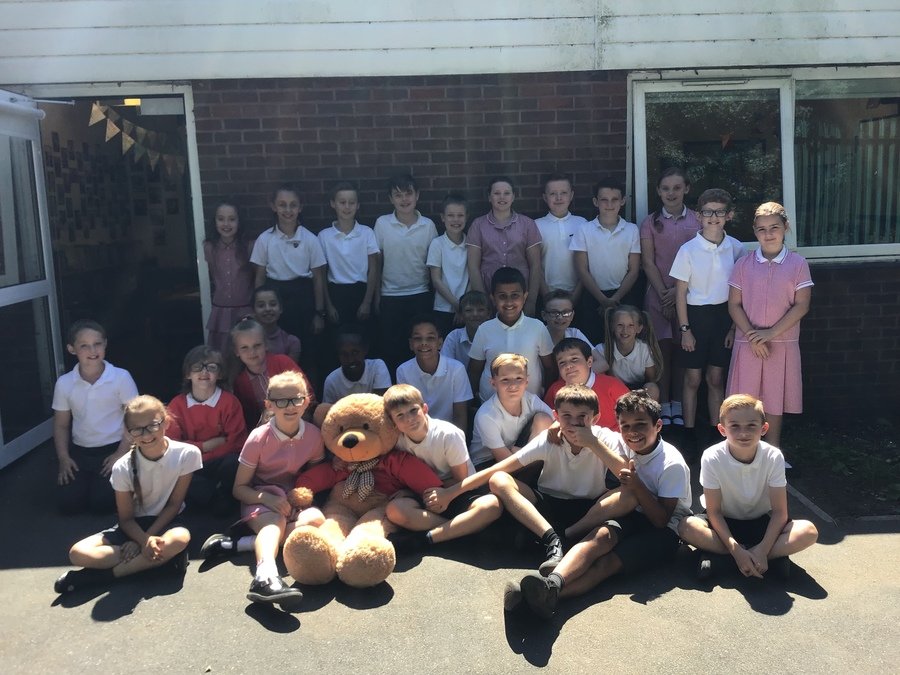 9th-12th July 2018
This year, Year 5 and Year 6 have worked together to perform their own version of the Lion King. It was a fantastic performance for all who attended. With some superstar performances, dance routines and songs, it was an enjoyable show from start to finish. What an amazing show to end the year with!
Friday 15th June 2018
As mentioned in the Crux magazine, there was a Leavers' Service on June 15th 2018 where Year 6 were invited to Manchester Cathedral to celebrate their lives at St. Paul's CE Primary School and wish them well for their next step into secondary education.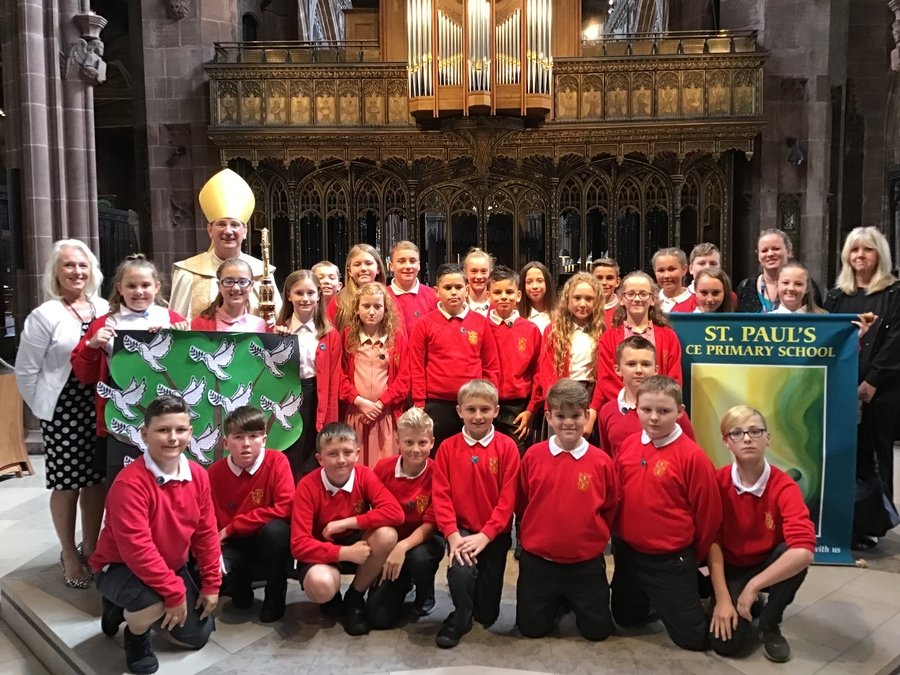 Friday 18th May 2018
This week the children in Year 6 have tried incredibly hard to achieve their best in their SATs tests. We had a breakfast club every morning to encourage the children to eat a substantial breakfast and have something to eat with their peers before facing the challenging tests. By Friday, the tests were over and it was time for us to head to Tandle Hill and face a different kind of challenge. Predicting how many steps it would take from school to the monument and back! Can you guess the answer? We did of course, stop for a picnic and a few photos along the way.
Thursday 26th April 2018
Once again, the fire service gave up their time to come into school and share a presentation on how the children can stay safe during the summer months. The children were made aware of the dangers of water and fires, especially grass fires. The children enjoyed the presentation and were keen to ask the firefighters a variety of questions.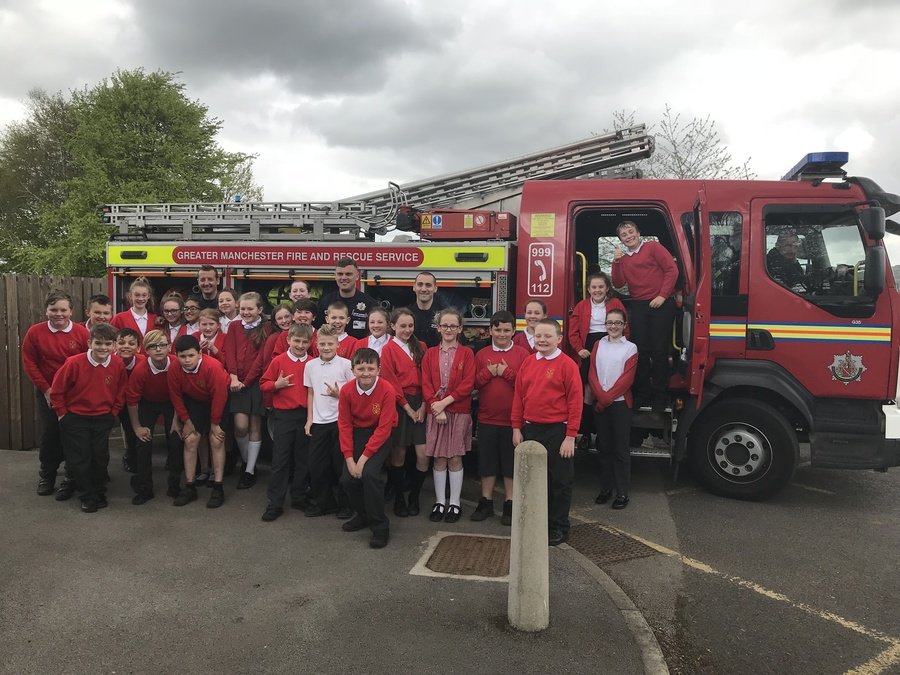 Thursday 12th April 2018
What a fantastic first week back! The children have been enthusiastic and engaged with all their learning activities, particularly our science topic of Electricity. This week the children were able to use their knowledge of circuits and their components to build their own. Challenging themselves to take their learning a step further, some chose to use switches within their circuit whilst others decided to explore what a motor could be used for. Billy, Joe, Harry, Luke, Evan and Lincoln decided to try a build a car whereas a few of the other groups decided to build a variety of colour-wheel fans.
Thursday 29th March 2018
Today we have celebrated the Easter story at St. Paul's Church. The Year 6 pupils and the choir led the service to retell the story through mime and use of colour. At the end of the service, the cross was decorated with paper flowers that the Year 6 pupils had made.
Wednesday 28th March 2018
What an egg-cellent treat we have had today. So many fantastic designs for the 'Decorated Egg' competition. Our winners were Milly Massey and Olivia Kershaw. Well done to everybody that entered and thank you to all the family members that helped to support the entries.
Thursday 15th March 2018
Today we wore odd socks to celebrate an awareness of people with disabilities. The odd socks were to understand that it is OK to be different, we are all unique. We have been joined by inspirational guest speaker, John McCorkell, who came to talk to us about having a disability (cerebral palsy) and how he manages to live his life with love and support. The children were allowed to use his wheelchair to move around the hall, helping them to understand the difficulties wheelchair users can face. They also looked at the use of symbols and flashcards and how this can help people who are often overwhelmed by language and also how people might communicate if they were hearing or sight impaired. The day allowed the children to think carefully about those around them and how they can help and support people with disabilities at home and at school.
Tuesday 6th March 2018
Last week everybody took part in a spelling challenge, it was very close in Year 6. The finalists were narrowed down based on their initial scores. Today they took part in a final round with an audience. Alfie, Millie and Olivia spent the weekend practising the possible spellings that were to be tested but it was Alfie who took the lead and won. Well done Alfie!
Monday 5th March 2018
Today we celebrated World Book Day, a few days late but we got there. Well done to everybody for dressing up as a book character and sharing a love of reading.
Wednesday 21st March 2018
As many of the children in Year 6 have been interviewing relatives and friends of the family about the war, Harriet, Gracie, Joe and Kian went to Throstle Court to meet a very special lady - Mary. Mary was part of the Women's RAF during World War Two and was able to talk to the children and discuss her experiences.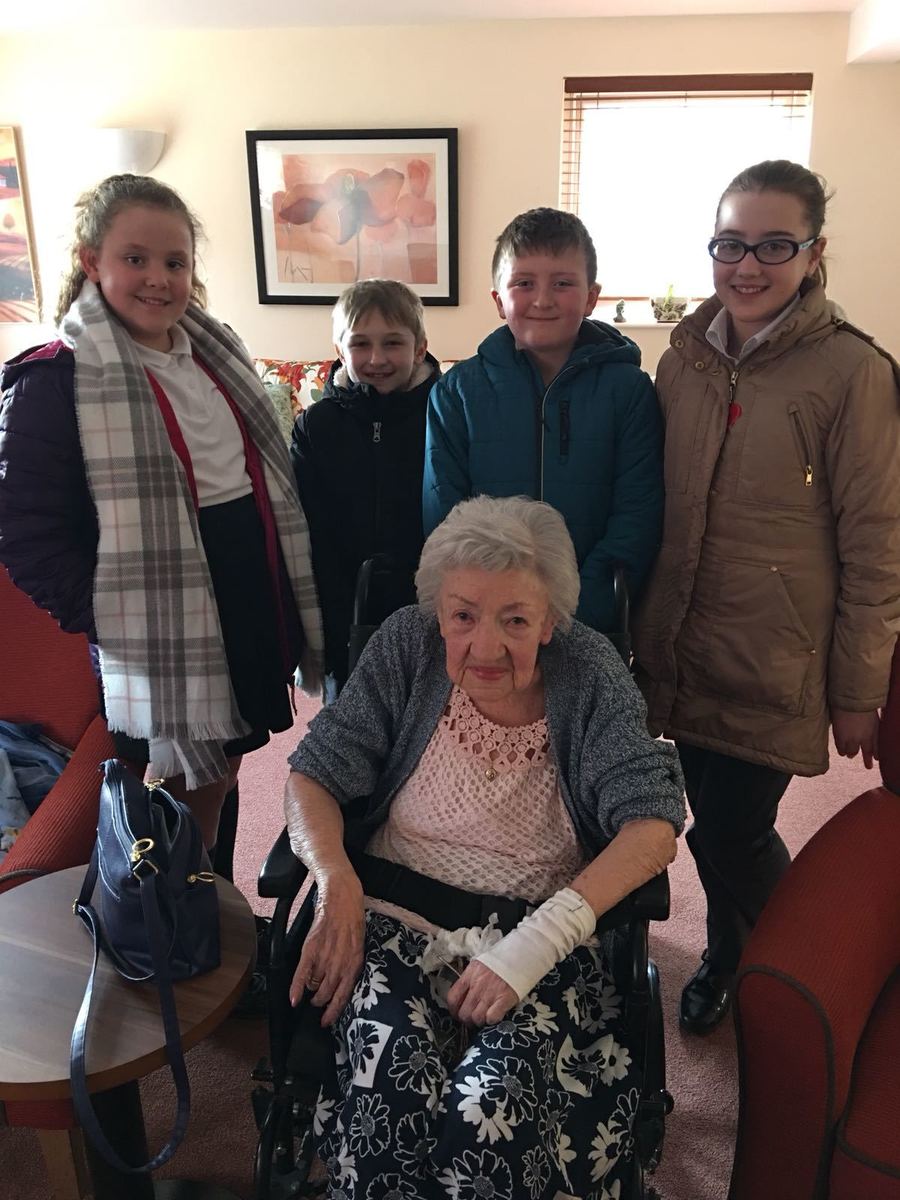 Wednesday 14th February 2018
Over the past few weeks, Mrs Hamblin has been working with some of children in Year 6, in an Art Therapy group, to create a large piece of artwork. The children had to use their hands and work together to recreate the chosen picture on a large scale. They used various colours of paints to mix and develop the colours needed. The finished piece will be displayed in school very soon.
Wednesday 31st January 2018
Over the last month we have been exploring different aspects of World War 2, the children have been enthusiastic and engaged from the start and have taken great pride in sharing their family history. It has been wonderful to explore the next steps in our learning by exploring a real life POW camp: Eden Camp.
Eden Camp has allowed us to experience the sights, sounds and smells of wartime Britain. Look at the photographs to see what an amazing time we have had.
Friday 19th January 2018
What an amazing start to the term! The children have returned to school with a fantastic attitude to learning. They are keen and ready to learn. Last week we started our new topic on World War 2. It has been incredible to see such interest and enthusiasm for learning. The children have engaged in all areas of this cross-curricular topic and are enjoying researching the many aspects of the war, particularly being able to interview relatives and family friends gaining first hand accounts of the war.
Friday 22nd December
Over the last two weeks we have enjoyed a variety of activities to celebrate Christmas. This week we finished off with a fantastic talent show led by Year 5 and 6 pupils, celebrating poetry, sporting skills, musical talents, singing and dancing. Well done Year 5 and 6!
Monday 6th November - Wednesday 8th November 2017
This week, Year 6 went to Robinwood for three days. They faced personal challenges in many different ways, for some of them this was a particular activity - heights, water, or darkness but for some of them it was simply being away from their families overnight. But they did it and felt so proud of themselves afterwards. The children all worked well together and formed friendships and memories that they can treasure for the rest of their lives.
Robinwood - Day 1 (6/11/17)
Robinwood - Day 2 (7/11/17)
Robinwood - Day 3 (8/11/17)
Friday 6th October 2017
This week we have enjoyed learning about BODMAS/BIDMAS in Maths. We worked with our learning partners to take part in a class challenge as well as enjoying a treasure hunt to reinforce our understanding. We really enjoyed this activity. In Science we have also started to work on our topic of the Human Body. We have been developing our understanding of the major organs - what they look like and their function. We had fun drawing around children in our class and then identifying the location of their organs.
Friday 29th September 2017
Thank you for all the Harvest donations. The food products were put on display during our Harvest Service this morning for all to see. After the church service on Sunday, they will be distributed to our local drop-in services. During the Harvest service this morning, some of the Year 6 children performed a play based on the Good Samaritan and the school councillors read out the prayers. The choir also sang beautifully.
Friday 15th September 2017
Year 6 are joining the rest of the school to complete the 'Daily Mile', this is a walk around the school grounds. We have been enjoying this time to talk to each other whilst we are also exercising.