Year 5
Welcome to the Year 5 class page. Please keep visiting us regularly to find out what we have been doing in class.
29th September 2016.
Year 5 continue to make great progress with their learning in Year 5.
In History, we have enjoyed being Archaeological Investigators and solving the mystery of Sutton Hoo.
We have also had a brilliant time doing a fab fitness circuit training session with Freddy Fit.
15th September 2016

Year 5 have made a brilliant start to the new school year!
We have already made great progress in our new Maths scheme, learning all about place value, addition and subtraction. We have also written in a range of genres during English lessons.
For our topic work, we have been learning about why the Anglo-Saxons came to Britain and what their village life would have been like.
In PE we are learning about Samba dancing and Athletics. For this half term, indoor kit is needed on Wednesdays and outdoor kit on Thursdays.
11th March
The science topic this term is Earth and Space.
So far we have named the planets in our solar system, learned about the reason Pluto is now recognized as a dwarf planet and looked at the relative sizes of The Earth, Moon and Sun.
The topic has been cross curricular with maths being used for the calculations of the relative sizes and distances of the The Earth, Moon and Sun. We found, using diameters, that if The Earth was the size of a marble The Moon would be the size of a pepper corn and about 30 cm from The Earth. The Sun, however, would be 120 metres away and would have a diameter of about 110 cm. The class concluded that it was no wonder scientists called it 'space'...
In English we have found out what features are needed in an explanation text. In groups the children have selected what information and diagrams to include in a presentation to each other explaining how the seasons are caused by The Earth's orientation and movement around The Sun.
This term in Music, we have been learning a song for the Greater Manchester Music Hub Singing Challenge. The song celebrated the fact that Manchester has been chosen as the European City of Science 2016.
The song helped the children learn some of the fascinating facts about the scientific and industrial developments within Greater Manchester's history. Linking with English the children researched some of the people named in the song and wrote a biography about that person. This was followed on by producing a Powerpoint presentation of their biography.
To complete the challenge all the primary schools taking part united in song at 2pm on the 8th March.
The Children of Class 5 also told the rest of the school about Manchester being the European City of Science in a special presentation and performed the song in an assembly.
Below is a video of one of the practice sessions:
5th February 2016
Our topic theme is on Islam and Baghdad c900: So far we have studied Hammurabi, a Mesopotamian ruler, and the development of one of the first written languages (Cuneiform) which lead to the first written laws. In class we wrote out our names using cuneiform and a message for partners to translate; designed our own laws and discussed how they would be enforced and if punishments would be required if they were broken. We then looked at the design and positioning of Baghdad, near the Euphrates and Tigris Rivers and the rest of the ancient civilizations of the time. In class we used evidence in historical texts to draw the layout of the city and add any building we thought were necessary for a city. We also learned that the city of Baghdad had nearly as many people living in it as the whole of England! We have also been watching a video about how the Islamic scholars of Baghdad collected all the maths, science and medical knowledge of the time and translated it into classical Arabic. In fact, most of our maths and a lot of modern science, is based on what the scholars of Baghdad recorded back in this time period.
In English lessons we are continuing to read 1001 Arabian nights. We have looked at idioms and words from other languages that have been adopted by us and are now in common usage i.e juggernaut, algebra and tornado. We have looked closely at the tricks of authors use to improve stories e.g. powerful verbs, vivid adjectives, similes, metaphors and different length sentences. Using these 'tricks' we have written a version of Ali Baba and the forty thieves but from an alternative character's perspective.
In maths we have been concentrating on our assessment s and have gone over our papers to check how reading the questions carefully can gain us extra marks and stop mistakes. We have also looked at some algebra and found that it is the same as the missing number equations we had in our half termly assessment paper.
In Music we have started to learn musical notation i.e., length of notes etc. and clapped out the rhythm from musical notation. Also we had a go with our class set of recorders and managed to give Mr Houghton a headache...
27th November
A big thank you to the whole class (and parents) for bringing in chocolate to use in the Christmas fair.
This week, in English, we have started to look at the Alfred Noyes poem, The Highwayman. We started by predicting the Highwayman's character from his picture and learning a little about highwaymen in general. Next we learned about the language used in the poem, what it meant and how each verse made us feel.
In Maths we started to learn about fractions. We began by making a booklet about what we knew already and have added to it as the week went on.
Geography (Climate Zones): We were looking at the different regions of the globe that had similar climates and that climate's relationship to the distance from the equator. We found a country from each zones and suggested the kind of clothes we would need if we were to visit.
In Science we are learning about the life cycles of animals. This week we looked specifically at Amphibians.
13th November 2015
Another busy week in year 5 saw us completing our Anglo Saxon Chronicles with the addition of our Legend stories. These have been aged (with a teabag) and look quite spectacular.
In English, we have been concentrating on grammar and in particular verb tense. When some of the class are in full writing flow, they forget to check that the verb is in the correct tense.
Maths - We have been looking at written calculations in multiplication. We briefly tried the grid method then we moved onto simple column multiplication (TU x U). All was going well, then we attempted long multiplication (TU x TU). This method confused a few in the class , but I was very pleased that all the class tried. They all persevered with this method and towards the end of the week, all of the class could use the method. WELL DONE!
Topic - We have started to look at World Climate Zones and have used World maps and atlases to study the typical climate for different areas.
Science - Whilst maintaining our study of plants and animals we looked at the types of animals that lived in the different climate of the world. We also talked about how they were suitable for that climate.
6th November 2015.
Apart from all the normal subjects, this week we improved our cycling proficiency and safety.
The class braved the horrible weather to have fun and learn to be safe when riding bicycles on the road.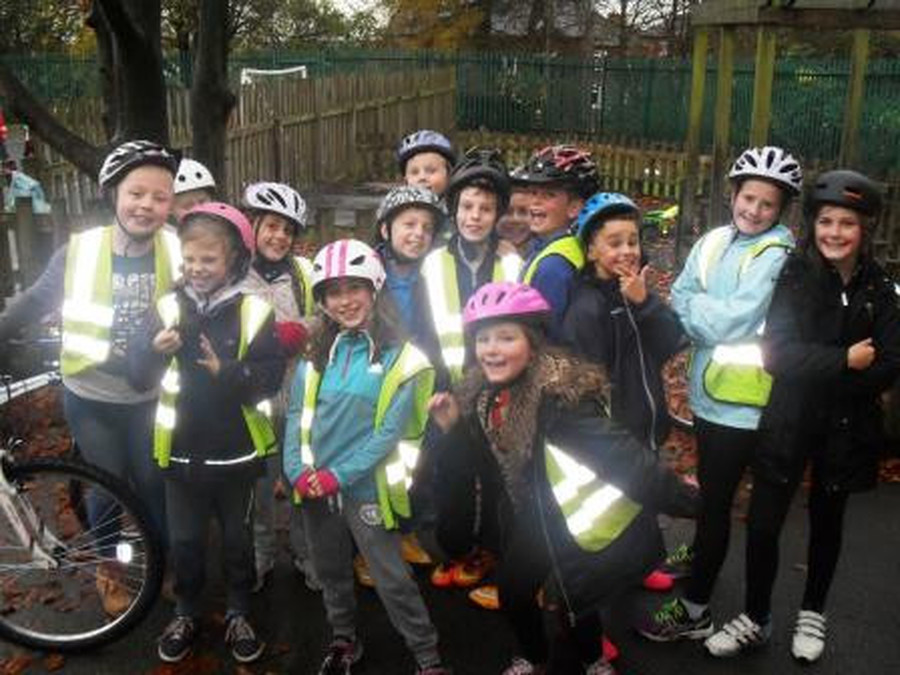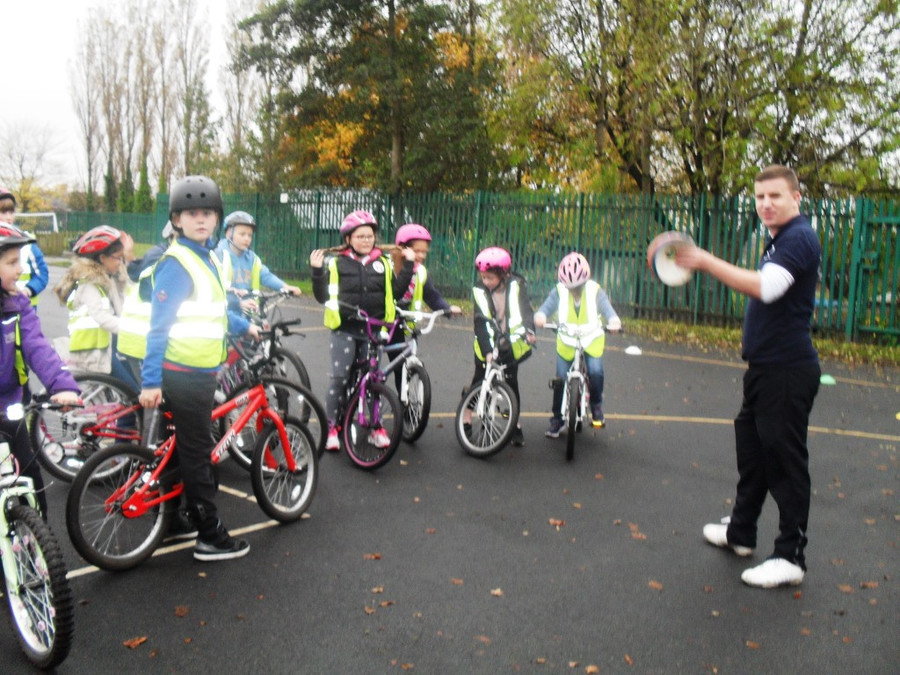 23rd October 2015

Wow! Half term break already.
The class have been really busy this week.
We have been writing up our legend from our detailed planning. Some of the children have also written their Legend up for display, including an illuminated initial letter; we learned about illuminated letters when looking at and preparing our own Anglo-Saxon Chronicle in History.
In Mathematics we have started to look at Multiplication and Division. We started by using known facts to help us answer questions then moved onto using partitioning or rounding and adjusting to answer questions using larger numbers.
In Science we set up our experiment, and saw some results later in the week, of the effect of different liquids on the growth of plants.
2nd October 2015
In English this week, we have been concentrating on grammar and punctuation. We have done this so that we can structure our sentences and make their meaning clearer. We have looked at adding extra information to sentences using subordinate clauses and some embedded clauses marked by commas.
In Mathematics, we have been practising standard methods of addition and subtraction (column methods). Later in the week we used 'RUCSAC' to answer word problems.
In Topic, we started to build a model Anglo Saxon village... We have to say a big 'Thank You' to our cleaner, as it took half an hour to clean the thatched roof from the carpet...
In Science, we brought in materials to use in our investigation next week. We will be looking at the effect of different liquids on the growth of plants.
In outdoor P.E., inspired by the Rugby World Cup, we have started to learn how to play Tag Rugby.
18th September 2015
The highlight of this week has undoubtedly been the visit of Freddy Fit who reminded us of the importance of keeping fit. We really enjoyed doing the activities which he showed to us.
In English we have continued to look at the features of legends, focusing particularly on the legend of King Arthur.
In Mathematics we have been adding four figure numbers.
In Science, we are continuing to look at plants, particularly the functions of the different parts.
In our work on the Anglo Saxons we have been discovering the different features which the Anglo Saxons looked for when deciding to settle in a particular area.
11th September 2015
This week, we welcomed Mrs Parker to our class. She will be teaching us on Mondays, Tuesdays, Thursdays and Fridays.
We continued to work on place value in Mathematics. In English we have been looking at the legend of Arthur and are working towards writing our own legend. We have also been looking at prefixes and suffixes.
In science, we have been looking at and naming the parts of a flower.
We have been reading letters from some children at the Bhalubasa School in India and next week we will reply to their letters. We were really interested to read how different their school is to ours.
4th September 2015
The children have settled in quickly this week and are getting used to their new classrooms and routines. Well done Year 5!
In Maths we have revised and consolidated previous learning about place value. We have been comparing the values of 4 and 5 digit numbers. We have been recognising the values of large numbers and using and applying these, for example comparing large distances between the capital cities around the world.
We have been rounding large numbers to the nearest 10, 100 and even 1000!
In English we have been practising our spellings by using the Look, Cover, Write, Check method and through some speedy dictation! We have been preparing to write a short diary as part of our History topic too, learning all about first person narrative.
In topic work, we have started our learning by generating lots of questions about what life was like for a child in Britain during Anglo-Saxon times. We worked collaboratively and used the internet to research some of the answers to our questions.
We have pushed ourselves in outdoor games to play a collaborative and competitive rounders game.