Welcome to the Reception class Web Page.
Keep checking back here for regular updates about our learning.
Week ending February 10th.
In Mathematics this week we have been concentrating on different ways to measure. We made giant footprints which we measured with multilink cubes and compared with our own shoes and adult shoes. We took 10 cubes and had to make a snake exactly the same length , then one longer and one shorter. We used bucket balances to compare two objects with different weights. We also tried to guess which things were the heaviest and the lightest.
We have been looking at how to write capital letters alongside lower case letters and have been concentrating on correct letter formation and good pencil grips. We looked carefully at the punctuation and are learning that a full stop comes at the end of sentences. We also spotted commas ans apostrophes in stories.
We listened to the story of the Princess and the Pea. The children played with puppets and with masks to act out some of our traditional stories. They even thought of alternative endings to the stories ( although they all had a happy ending) !
Week ending February 3rd.
This week we have been learning all about Chinese New Year. There is a Chinese "All you can eat Buffet" in our classroom for role play and funky fingers activities. This has been very popular- although the adults are not very good at picking things up with chopsticks. We made lion masks and learned about many traditions associated with Chinese New Year. We attempted Chinese calligraphy and painted lucky door messages with cotton buds, feathers, sticks and fine paintbrushes.
Mrs Wong came to give us her usual master class and we made spring rolls together. We hope that you enjoyed them.
In Maths we continue our work on numbers and counting. The children are trying very hard to learn about halving and doubling. We use our fingers to check. There was a teddy bears picnic where we has to share pizza, chocolate and cakes between two bears. We also doubled dinosaurs.
We have been learning about soild shapes .We used a feely bag to play "guess the shape" . We had to learn the correct names for the shapes sphere , cube, cuboid, prism , cylinder , cone and pyramid.
In assembly have been thinking about the Fruits of the Spirit.Following this each child chose their own fruit and wrote a prayer candle on a paper candle . We coloured the flames and laminated them to hang on a prayer tree. I expected the most popular one to be love. However the class like the idea of self control .... surely the most difficult ideal to demonstrate as a young child.
Our Language work has been about traditional tales. We listened to them in storytime and had a go at writing our own recounts of the Gingerbread man and Jack and the Beanstalk.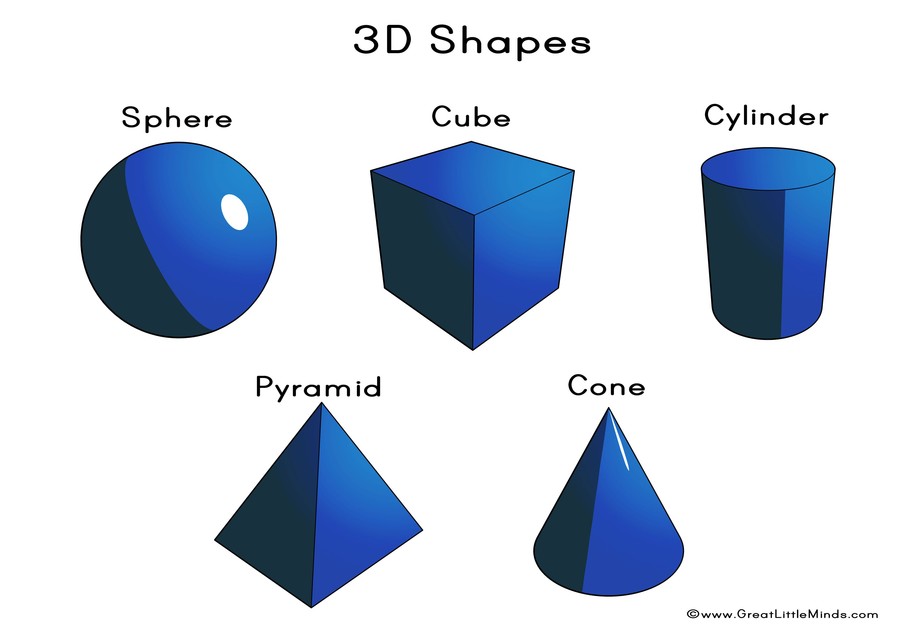 January 30th. Gold Star Award for Charlotte.
Last week Charlotte amazed us all by her ability to double and half numbers in her head.
She shared pizza in a Teddy Bears Picnic and was able to explain her thinking. We even gave her a tricky teacher challenge. She had a 5 pieced donut but had to share it equally between two bears. This was no problem to Charlotte , who knew the answer was to cut one piece in half.
Everyone was happy and Mrs Henderson gave her our Gold Award.
Well done Charlotte.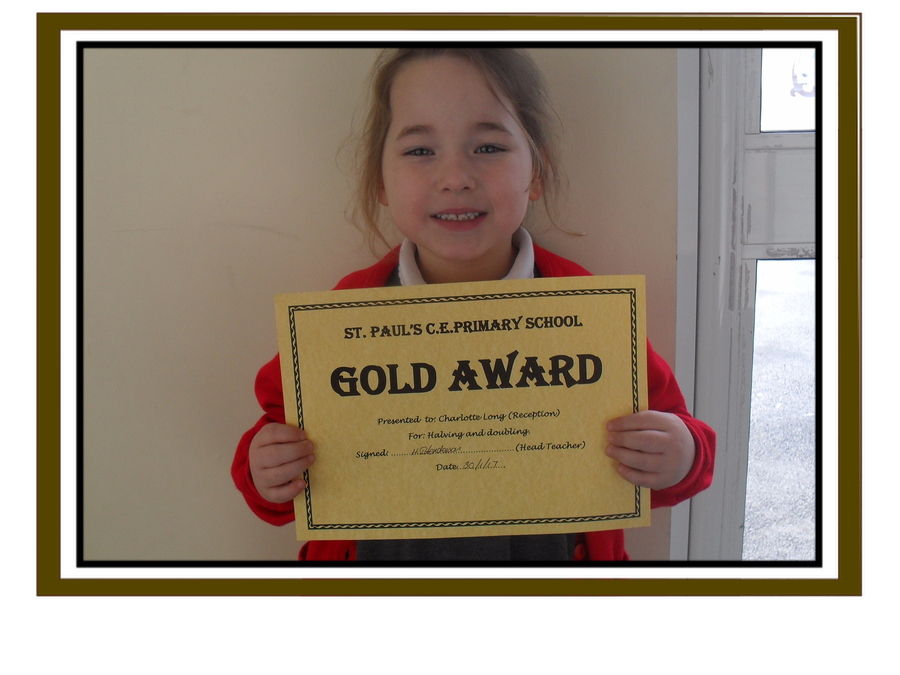 January 23rd. Our First Gold Award.
Noah was presented with the first gold award this morning in our assembly. This is from Mrs Henderson and is for an exemplary attitude to learning. Well done Noah.
We also received an additional award as a class for Independent learning. Our invitations and letters have been very impressive.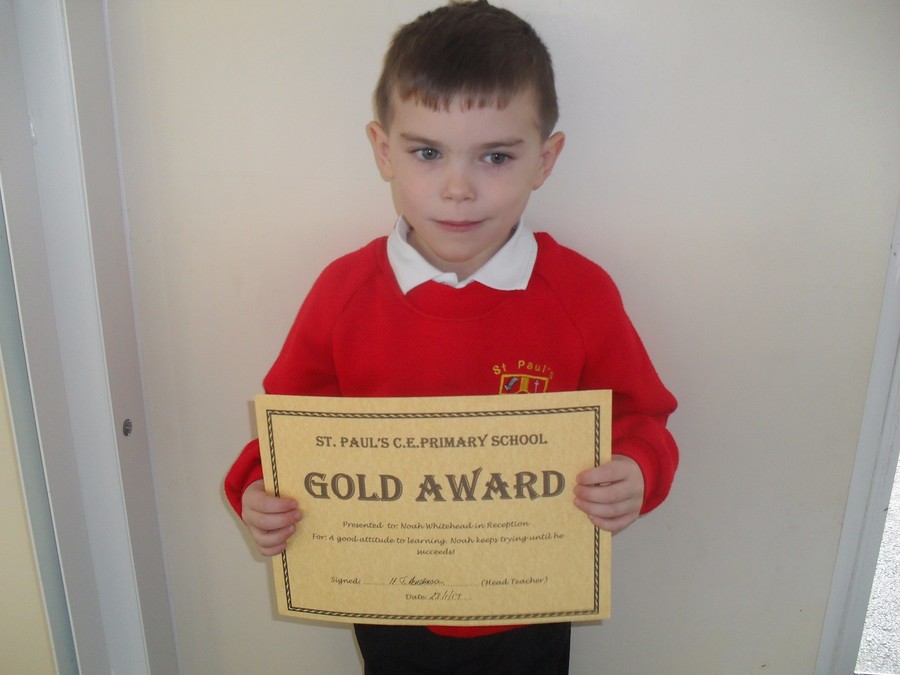 Week ending January 13th.
Our writing station has been very popular again this week. The focus has been on how we would write party invitations. Many of the children wanted parties at home with friends from the class and enjoyed giving invitations out in school. However the adults have also been invited to bouncy castle parties , fairy dressing up shows and even one football party!
We are now using materials from "No Nonsense Phonics" to support reading and writing. Children are being encouraged to use a mature grip and to work carefully. They are all dong their best with this new learning.
Mathematics this week has been all about counting. The children are counting within 100. They are also recognising numerals to 20 and beginning to write the numerals. There have been sessions on estimating. number lines and adding one more than a given number.
We have been learning about the changing seasons. There was much discussion about why the snow did not come at Christmas and lots of ideas about what we should do if it starts to snow. Some of the children produced interesting paintings after this learning . They had reflected well on which colours to choose when painting pictures of a cold day in Royton. These pictures are on display in the Reception classroom.
For our "Penpals" handwriting unit this week we are practising "long legged giraffe letters" This means having a go at writing the graphemes "l" j" "u" "i"and"k".
SPRING TERM 2017
Happy New Year!
The children have settled back quickly into school and are ready and eager for new learning.
This week we have been pleased to welcome Mrs Henderson as our new Head Teacher. She has already met some of the Reception class children who were proud of their independent learning. If your child comes home from school wearing a sticker, then please ask them what it was for.
Mrs Henderson is including our children in the school assemblies. They listened attentitively and responded well to that new experience . We were very proud of them.
A special shout out to Tom Snape. How brave he was when asked to stand up and say a prayer for us.
"Dear God, I do love my Mummy!" Well done Tom!
Week Ending December 16th.
Christingles and parties.......
Week ending December 9th.
What a wonderful nativity!
Thank you to all those people who provided costumes and came to support us this week as we performed our Nativity play. The hall was packed and such lovely comments from parents and friends.
Well done everyone. You were FANTASTIC!
Week ending December 2nd,
We are now in full flow and getting ready for Christmas with speed and lots of excitement.
The children know that Advent is a time to get ready. We continue to work on our Nativity play and look forward to seeing our family and friends next Thursday for the performance. We are completing our Christmas craft and of course look forward to Christmas dinner and our party with Years 1 ans 2.
Skills work continues alongside this.
Abacus work was all about money. We had to recognise coins and begin to realise that they have different values. We looked at how you could combine coins to make different amounts of money and at paper money and bank cards.
We continue our whole class literacy and individual reading work. We are writing lists and cards.
We had our last PE lesson with Miss Martland and Music session with Mr Murphy for the moment. They will see us again in the summer.
Father Christmas should be pleased with all that we have done this term.
Week ending November 25th.
This week we have been working more on counting and recognising numerals. The children had to count along a number line and then work out which number was missing.We also played "challenge a friend" game involving adding 2 numbers together when 2 dice were rolled.
In literacy we have moved on to patterned stories. We checked word lists and begun word level work for stage 2 Oxford Reading Tree. Please fill in one box of the reading record each week and return it on the correct reading day so that we can have 1-1 reading sessions with the class each week.
We continue to work on our Nativity play. I am fairly sure that the children will be entertaining you with our songs at home. They are working very hard to learn the words and sing along as we tell the story.
One of the popular construction materials in the Reception class is called "Poly M". The children are encouraged to be creative and design their own models with it. We now have asked the children to share their ideas with the other children in their group -either by telling us all about it or by making a label or sign to go with any saved models.
Week ending November 18th.
This week our "Abacus" work has been about 2D shapes. We had to recognise, match and label the circles, squares, rectangles and triangles. There was a game where we used a feely bag to play "Guess that Shape". It was not easy as no one was allowed to peep! To make it even more difficult we also tried to describe the properties of shapes using the words straight, curved, side, edge, corner.
There was more work on time. This included reciting the days of the week and the months of the year. We used talking partners to talk about special months. It was a surprise that not all children know the month of their birth. However just about everyone could tell me that Christmas is coming very soon.
In literacy there has been work on writing captions and labels. This has included work on writing our names with the correct letter formation. We are now using texts with familiar words and sentences. There have been word level assessments and some children are beginning to take these home.
Our Christmas concert this year is a Nativity play which is new to St. Pauls and is called "Shine, Star Shine!" We have already begun singing some of the songs. I am sure the children will be singing them to you as well.
If any one needs help with dressing their child in a suitable costume , please see a member of staff. We have a stock of nativity costumes in school that we have available, or some ideas as to how to dress children without much expense.
Finally, thank you to all parents who so generously supported our "Children in Need" fundraising. We always manage to donate a pleasing total for this and have fun at the same time.
Here is the next word list linked to the Oxford reading Tree stage 2.
Week ending November 11th.
This week in literacy we have been working on letter writing. We started with talking partners in a carpet session about things we would like our new headteacher to know. Then we decided to write our ideas and questions in letters .We also read some more Oxford reading tree texts and did individual reading activities.
Some children are now ready to begin phase 2 phonics. Other children are almost ready to begin phase 3. All of the children are also learning the tricky words the , to, no, go.
Mathematics this week has been all about numbers. We counted to 100 and worked on number lines and squares to find the next number. We did some more work on estimating and subutizing. We also counted backwards from 20 and played games that involved addition and subtraction.
We had the opportunity to celebrate Bonfire night by making glittery pictures and commemorated Poppy day by keeping the 2 minutes silence with the rest of our school. There was a power point lesson where we discussed remembering and the children were very respectful.
We also talked about remembering and on Friday at 11am we joined the rest of our school to keep the 2 minute silence. How proud we were of our youngest children who sat quietly and still as we remembered.
On a lighter note: we learned some silly songs with Mr Murray. You can see how much fun music is, when you see the photographs below.
Week ending November 4th.
This week in literacy we have continued our work using texts about Biff. Chip and Kipper. Many of the children can now re tell some of the stories in their own words. They are also learning how to predict (guess what may come next or suggest how a story might end) and to answer questions using picture clues.
I hope that you will enjoy sharing these stories in your homes. The class love reading them to each other and to us in school.
In numeracy this week we have been learning about measures. We started by comparing height. The language we used was small taller tallest. Then we compared size with different toys, sorting cars by length, paint brushes by thickness and handle size, dinosaurs by length and dolls by length and weight.
We used a bead counter to display the correct number of beads within 20 and then to 100. We also played games by using a 100 number square.
In science it was the ideal week to look for signs of Autumn. We collected,sorted and drew round leaves to record our findings and then they were used in our play to make bug houses and camp fires.
We have Miss Martland until Christmas to continue our Gymnastics work. The children have been working on body shapes for balances. They understand the terms "straddle", "straight", "pike", "tuck" , "star", "butterfly". They have been learning how to make balances of 1 to 5 points.
In music the children worked with Mr Murphy. He encouraged them to join in with a variety of songs to promote steady beat and rhythm patterns.
Week ending October 14th.
In Literacy this week we have been looking at Non-fiction texts and learning how o use them to find out more. Children saw how to use a contents page and how illustrations , symbols and diagrams also give us more information.
Also this week there was an opportunity to learn about some of the characters in the Oxford Reading Tree scheme stories. They heard about Biff, Chip and Kipper. They are already beginning to recognise the first words that they need to read these books.
These are the words that your child needs to learn first.
Mum a
Dad the
Biff and
Chip
Floppy
Kipper
In Mathematics we have been working on Time. The children began by looking at the days of the week. They talked about special things that happen on different days. They used the language today , yesterday, tomorrow, weekend.
They also worked on positional language and we had lots of fun playing Hide and Seek with Big Ted. They used the words inside, on , behind, between, next to, left and right.
Week Ending October 7th.
Harvest celebrations.
Thank you to all of the people who gave up time to come into school this week and support our harvest worship. Your generous gifts will be donated to the drop in centre at st Aidans and Dr. Kershaws Hospice.
Week ending September 30th
Going for Gold!
We were very proud and excited to be allowed to change into our PE kit for the very first time. It was a struggle for many of the children but they kept on trying. Here are the photos to show you.
Freddy Fit came to school this week and the sports captains helped us to do circuit training!
Our literacy this week has focused on rhymes .We read a range of rhyming texts and worked out how to predict what comes next.
In phonics we are working on the next new sounds that will help us with reading and writing. We now know how to read the graphemes S, a. t. i, p, n. We say the sound and then learn how to write it and put it into a word.
You can help your child with this by reading together words based on these sounds , for example
at sat pat
it sit pit
tan pan tap
pin tin sin
In numeracy this week we have been working on patterns. We have found out that patterns repeat. We tried to continue patterns. We painted wristbands and snake patterns.
Finally, here is Noah. He came to school on Friday with Dudley bear. We were very proud that he had been chosen a s footballer of the week. We had assembly on Friday with the Nursery children and all congratulated him together.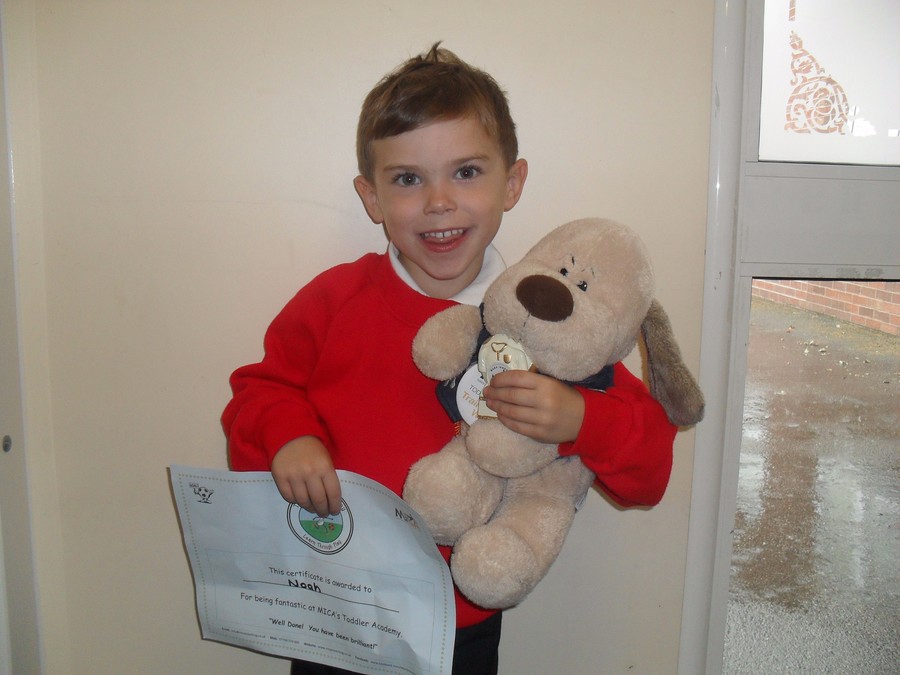 Week ending September 23rd
In literacy this week we shared a story about a hippopotamus on the roof eating cake.
This story gave the children lots of opportunities to make predictions and decide what might happen next. They are already developing good listening habits . There was also discussion about healthy eating. There was a unanimous response that the hippo was very foolish eating so much cake. The children said that he was bound to get achy teeth which would go black and fall out. His tummy would get sore and he might be sick. He should eat vegetables and fruit , cheese and watermelon, fish and peas.
In Numeracy we continue to work on counting forwards and backwards along a number line. We also began to learn how to estimate (making sensible guesses about how many we could see). We sorted by shape size and colour.
In PE we learned some more stop start games. Miss Martland was very impressed with how well we follow instructions.
In music we are learning more harvest songs to sing at our Harvest service.
We began phonics learning this week. There was a mixture of listening and moving exercises. The children has to join in with rhyming games and were introduced to Sammy snake who "sound talks" to them.
Our Foundation Stage Assembly takes place on Friday mornings. We celebrate special events and achievements, birthdays and "Star of the Week". If your child has any badges, trophies or certificates please send them on Friday morning and we would love to see them and hear about what you can do at home .
Congratulations to Charlotte, Brayden and Laila for their football success. They brought in these trophies and certificates this week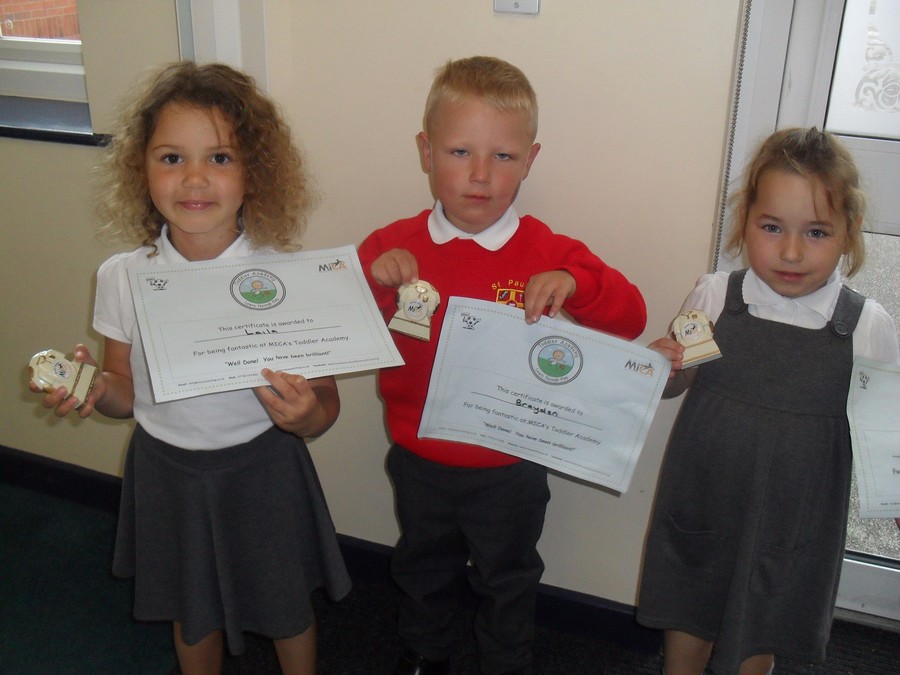 Week ending September 16th
This week has all been about settling in, learning the class expectations and routines, learning through play and having fun! The children have also been doing some baseline assessments so that we can see what they already know and plan next steps in learning.
In listening times we have been sharing a range of animal stories and joining in with some of the text. The children were able to answer simple questions about the pictures. They were describing and labelling as they read.
For handwriting we have begun and exciting new scheme called "Penpals". This runs through each year group and teaches writing skills systematically.
In Mathematics we have been counting to 20 and beyond. We have been working with number tracks and recognising numerals.
Our PE lessons have been about moving through spaces safely and in different ways. We had to take off cardigans and jumpers for this. Next week we will begin asking children to put on pumps and then to change into PE kit. This is always made easier when children are working on independence skills at home. Thank you for taking the time to label all uniform.
In RE and Music we are learning some harvest songs. There will be a foundation stage assembly in October to thank God for the harvest.
Our creative learning has involved painting ourselves. These pictures will form a display in the classroom. Watch out for them in and see if you can "Guess who" each painting is.
Week Ending September 9th.
Happy New Year.
Let me introduce our new children in Reception . They have already enjoyed their first days in school and spent the time experiencing some of the joys of learning together.
The photos here show just some of the things that we have been doing.