Welcome to Nursery!
Come and meet the staff! Mrs Lutley and Miss Norwood work together in the Nursery.
Mrs Lutley- Nursery Learning Support Assistant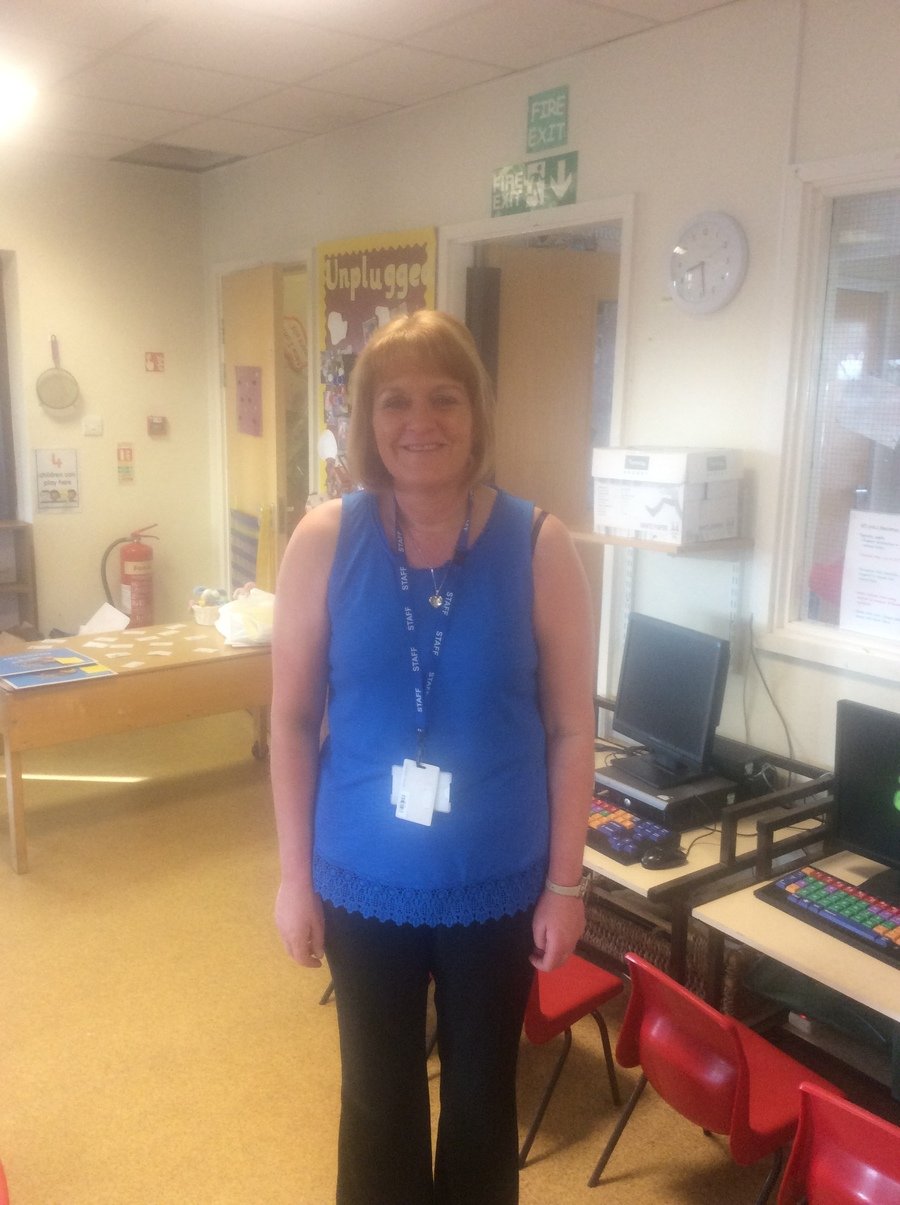 Miss Norwood- Nursery Teacher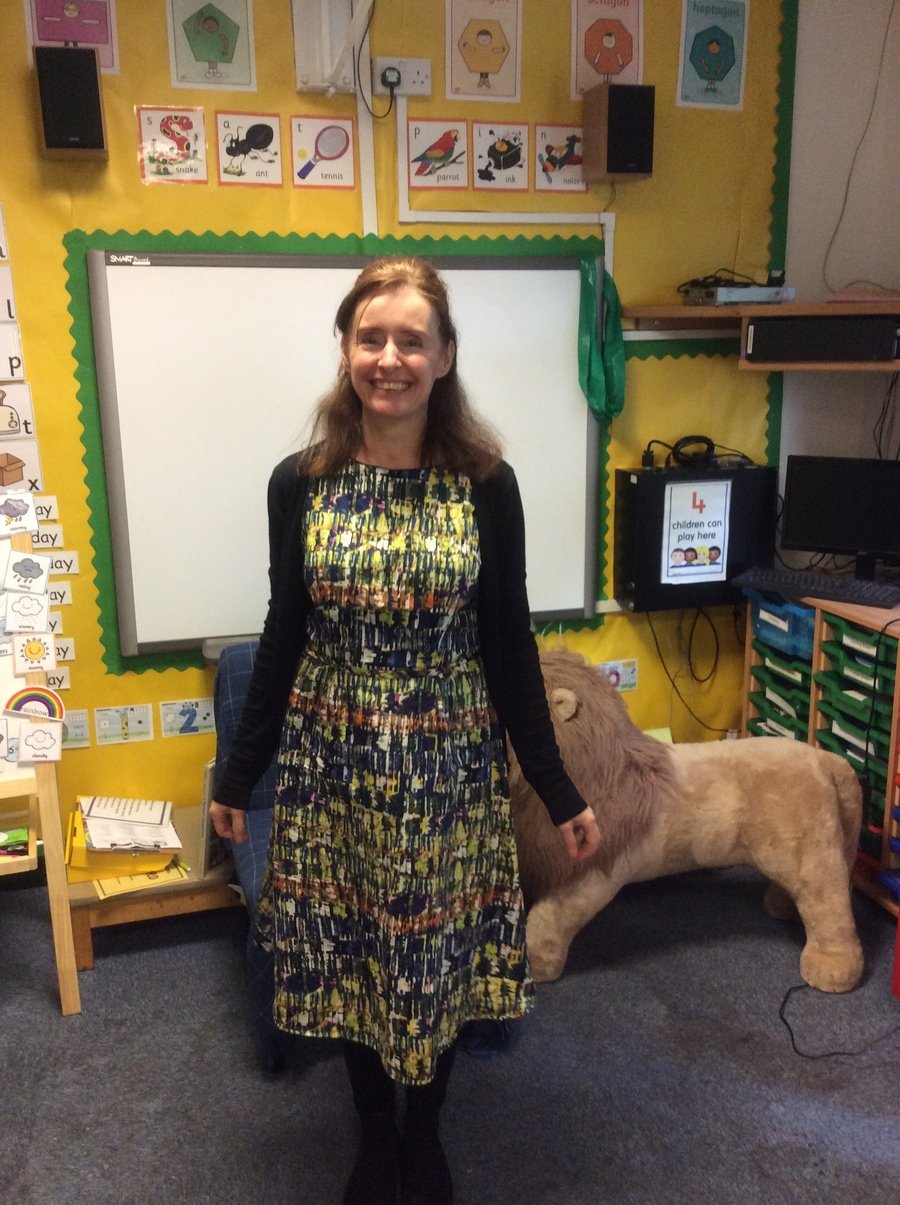 The topics for this year are:
Autumn 1: All About Me
Autumn 2: Celebrations
Spring 1: Traditional Tales
Spring 2: People Who Help Us
Summer 1: Living Things
Summer 2: Journeys
This half term, our topic is All About Me. We will be learning about our families, our bodies, where we live,similarities and differences between ourselves and our friends and what we like and dislike. Please talk to your child about these at home.
In Nursery, children follow a play-based approach to learning through a variety of practical child-initiated and adult-led activities. We follow the EYFS (Early Years Foundation Stage) Curriculum. It is important that the children attain skills and knowledge in each area of the area curriculum in order to ensure continued progress throughout the following year. We want to work in partnership with you and greatly value any additional support you can provide in helping your child to achieve these objectives and ensure they are ready for the next years of learning. Children in the Early Years learn more effectively if they have developed high levels of independence, concentration and self-help skills.
Expectations for the end of Nursery:
Mathematics
Recognise numbers 0-10
Count reliably to at least 10
Count actions or objects that cannot be moved (to at least 10)
Count out up to 10 objects from a larger group
Use language such as 'more' or 'fewer'
Find one more or one less from a group of up to 10
objects
Begin to represent numbers
Begin to use the language of addition and subtraction
Begin to solve problems based on own interests
Begin to find the total number of items in a set by
counting all of them
To name and describe 2D and 3D shapes, and begin to talk about the
properties of shape
Use positional language e.g behind, in front, next
to, between, above
Use objects and common shapes to create and
recreate patterns
Reading
Choose to look at books and enjoys stories
Know that information can be retreived
from books and computers
Link sounds (phonemes) to letters
Hear and say initial, middle and end sounds (phonemes) in words
Can continue a ryhming string e.g. cat,
mat, sat, bat
Say each of the sounds (phonemes) in a short word
Use a wide vocabulary influenced by an
experience of books
Predict what will happen next in a story
Talk about the characters, setting and events
Describe favourite part of the story
Re-tell a story

Writing
Hold a pencil with the correct grip
Give meaning to the marks, shapes, letters
and pictures they make
To write their first and second name
Know that the sounds in a word can be
written down and that the letters used
make up a word said
Begin to form letters correctly and use in
emergent/independent writing
Begin to use letters to represent words
Begin to write labels and captions
8.10.18.
In Nursery, we have been continuing to explore all the different areas of our indoor and outdoor environment. We have been trying to have the confidence to explore new activities.
This week, we will be reading the story Peace at Last. We will be acting out and re-telling the story.
We will be collecting autumn leaves and counting them and continuing to think about autumn and harvest time.
Star of the Week. We have all been super stars for lots of different reasons. Have a look below:
5.10.18 -
Nursery Donations:
We would be grateful for any donations. This will help us to provide a healthy snack for the children, as well as resources for the classroom. We would also welcome items such as salt, rice, flour, pasta, shaving foam, hair gel/mousse, cotton wool, cotton buds and lentils which we can use to provide enriching sensory, creative and malleable activities.
Week Commencing: 30th April 2018:
This week the children have been learning about shapes. We went on a shape hunt inside and out to find different shapes in our environment. We also made some beautiful shape butterflies. We used learned new words to describe our shapes such as edge, curved, straight and corners.
Police Man Steve came to show us his Police Car and tell us about his special job following our work around People Who Help us last half term.
Week Commencing: 23rd April 2018:
This week the children have been practising their writing skills. We wrote labels to show what happens as a caterpillar changes into a butterfly. Some children practised their mark making in other areas of the indoor and outdoor classroom. Following our work last week some children wanted to find out about other creatures that live inside eggs. We visited Reception's newly hatched duck. Look at our pictures!.
Week Beginning: 16th April 2018
This week we have been learning about the lifecycle of caterpillars. Miss Chadderton brought in some real caterpillars for us to see. We sequenced pictures to show how the caterpillars change.
We also played positional language games to say where the Hungry Caterpillar was. We made our own caterpillars using paper chains. We used positional language to describe how we put the paper caterpillars together. Some of us decided to make our caterpillars by printing them. We added eyes and a mouth when they were dry and described where the different body parts were. We have also been looking after our sunflowers, beans and strawberries outside using our new water butt and hose pipe.
Week Beginning: 9th April 2018
This week we have been learning about the Police service as part of our topic People Who help us. We read non- fiction books about the Police service. We built Police cars indoors and outside and role-played being Police officers. In the workshop area we made our own Police badges and handcuffs! We wrote about who we thought had pushed Humpty Dumpty off the wall and made 'Wanted' posters.
Easter Week:
Nursery have been learning the Easter Story this week. They re-enacted it using small world figures in the construction area. They made pom-pom print Easter eggs for their Easter cards. We discussed why we eat Easter eggs and hot cross buns at this time of year. We had an Easter egg hunt in the outdoor area and divided the eggs we found out equally between all the children in the class, using the words 'more', 'less' and 'the same'. We also took part in the whole school Easter raffle. Lots of us won prizes! We made Easter nests with Mrs Lutley and Miss Chadderton. This week we have been discussing the fruits of the spirit. We looked in particular at kindness and self control. The children have been encouraged to think about these and share their Easter gifts with others. Nursery also wanted to learn to say the whole school prayer independently, so that they could participate in collective worship with the rest of the school. This week they managed it!
Miss Chadderton brought some duck eggs into school which are currently living in our Reception class. We discussed the signs of Spring and the life cycle of animals and insects in preparation for our next topic Living Things. We have also planted some Sunflowers and Potatoes ready for the growing season. Have a look at our pictures!
March 2018:
This half term we have been learning about People Who Help Us. We painted pictures of people who help us in our families. We also made and wrote Mother's Day cards for Mother's Day. The children walked to the post office to post their cards. They bought their own stamps in the post office and talked to the postal workers about their jobs.
We also visited and enrolled lots of the children in the library. The librarians told us all about their special job and read us a story. We visited the cook in school. She told us about how she looks after the children and staff. We also discussed coming to the hall for our school dinners next year.
We talked about health care professionals. We set up a Baby Clinic and Nurse Sarah came to school to tell us all about how she helps people in hospital. We thought about how we can take care of our bodies. We read the Very Hungry Caterpillar and discussed healthy eating.
February 2018:
This month we continued our work on Traditional tales. We learnt the story Goldilocks and the Three Bears. The children wrote invitations for their own teddies to come to school. We had a Teddy Bear's picnic and talked about more, less and the same amounts of food.
It has also been lots of exciting festivals this month. Mrs Wong came in to tell us all about Chinese New Year. She showed us how to make spring rolls. We talked about getting ready for Spring while planting spring flowers outside. We also made up dragon dances using ribbons and made our own dragons using wooden blocks. Look at our pictures below.
January 2018:
This half term Nursery have been learning about traditional tales. We started our topic by painting characters from our favourite stories. Then we learnt the story of the Gingerbread Man. We made our own Gingerbread Men and talked about how the mixture changed as it was cooked. The children solved number problems focusing on 'more', 'less' and the 'same' while adding the right number of eyes and buttons to their biscuits.
We have also looked at the story Jack and the Beanstalk this half term. The children used size words to describe their beanstalks and ordered them by height from tallest to shortest. We planted some real beans that we are hoping will grow. We read the story Jasper's Beanstalk to remind us of what they need to survive.
Nursery had lots of fun taking part in the whole school writing week. They made their own robots in lots of different areas inside and outside the classroom, using small and large construction blocks and also junk modelling materials. Next we wrote labels for our robots to show who had made which robot and what we wanted them to be called.
December 2017:
December was an eventful and exciting month for Nursery. We learnt about how Christmas is celebrated in the Christian faith and compared this to other festivals that we were familiar with.
We had Santa's Grotto in our classroom. We pretended to be Father Christmas and Rudolf and practised wrapping presents of different shapes and sizes. The adults encouraged us to use shape and size words to describe them. Lots of us practised writing our names on gift tags and Christmas cards. We also wrote shopping lists and Christmas wishes.
We performed the Nativity for our parents and had a lovely Christmas party. Our families also came into school for our special activity morning. Look at our photo's below!
November 2017
This month we have been learning about Autumn. The children started the month by telling the adults simple and more complex sentences about Bonfire Night. Our parents helped us using Class Dojo by sending in photos of their Bonfire Night celebrations. We painted Bonfire Night pictures and discussed the sounds the different fireworks made and the way that they moved. In PE we made up our own firework dances.
The second week of the month we began to look at seasonal changes in greater detail. The children went on an Autumn hunt outside. They discussed the changes they could see and why these changes were taking place. We read the story Leaf Man and made our own leaf shaped biscuits. The children used descriptive words to say how the dough felt, smelt and looked.
Later in the month we began to look at the seasons becoming darker as we move into Winter. We started to discuss the creatures that come out at night time. We used non-fiction books and the class computer to learn more about owls. We found out that not all owls look the same. Miss Chadderton brought in some different types of owl feathers for us to look at. We used describing words to talk about them. We made our own shape owls and discussed the different shapes that we could see on their faces. We also made some owl cakes!
In the last week of the month we began to learn about the Nativity story. We acted out the story using puppets and small world figures. Some children made their own puppets in the workshop area. We began to learn the words to the songs in our special performance for our families and friends next week.
September:
Miss Chadderton wanted to make some cakes for Macmillan, but she wasn't sure what we needed. Nursery and Reception worked together to write lists of ingredients. They also wrote invites to their families and friends to ask them to come to our cake sale.
Lots of our friends and families came! We raised lots of money and sang some tea and cake related songs, such as 'I'm a little teapot' and 'five currant buns'. They also got to see all the special things we have been doing in Nursery and look at our learning journeys.
April
We have been planting fruits and vegetables. We planted strawberries in Nursery garden with Miss Chadderton. We planted potatoes in grow bags with Mrs Haigh and Mrs Briggs. We planted beans with Mrs Heap and Mrs Haigh. We discussed what plants need to help them to grow. We are looking forward to watching them grow and eating lots of healthy foods.
March
Shaving Foam Fun!
Last week we asked for some shaving foam. We really enjoyed drawing pictures in the big tray and discussing the texture of the foam in our hands.
We made Easter nests using melted chocolate and shredded wheat. We talked about how the chocolate changed from being hard to runny. Miss Chadderton told us all about the special foods we might eat at Easter time. We looked at the cross on the top and sang a song the hot cross bun song.
Week Beginning 25.09.17
This week we have been learning about changes. The children experimented with different types of changes. We mixed colours in the shaving foam. Drew pictures with water and looked at how the fabric changed as it dried. The children looked at how cake mixture changed as we baked cakes for Macmillan.
We also learnt some cake related songs such as five currant buns, I'm a little tea pot and a special Harvest Festival song. We sold our cakes and performed our songs for our families and friends.
The children thought about healthy bodies while doing exercise with Freddy Fit. They also thought about healthy eating and decided to top their buns with healthy fruits. Nursery asked Miss Chadderton to buy strawberries and blueberries.
Earlier in the week we thought about matching numbers and quantities the children counted the candles on cakes and tried to write the right amount. They had funky finger challenges to do to put the right amount of beads in the bowl using tweezers.
Week Beginning: 08.05.17
This week we have been practising counting using one to one correspondence. Some children counted out items from a larger group. This was tricky as they had to remember the number they needed to stop counting. We made Hungry Caterpillars and counted their body parts and added spots to ladybirds.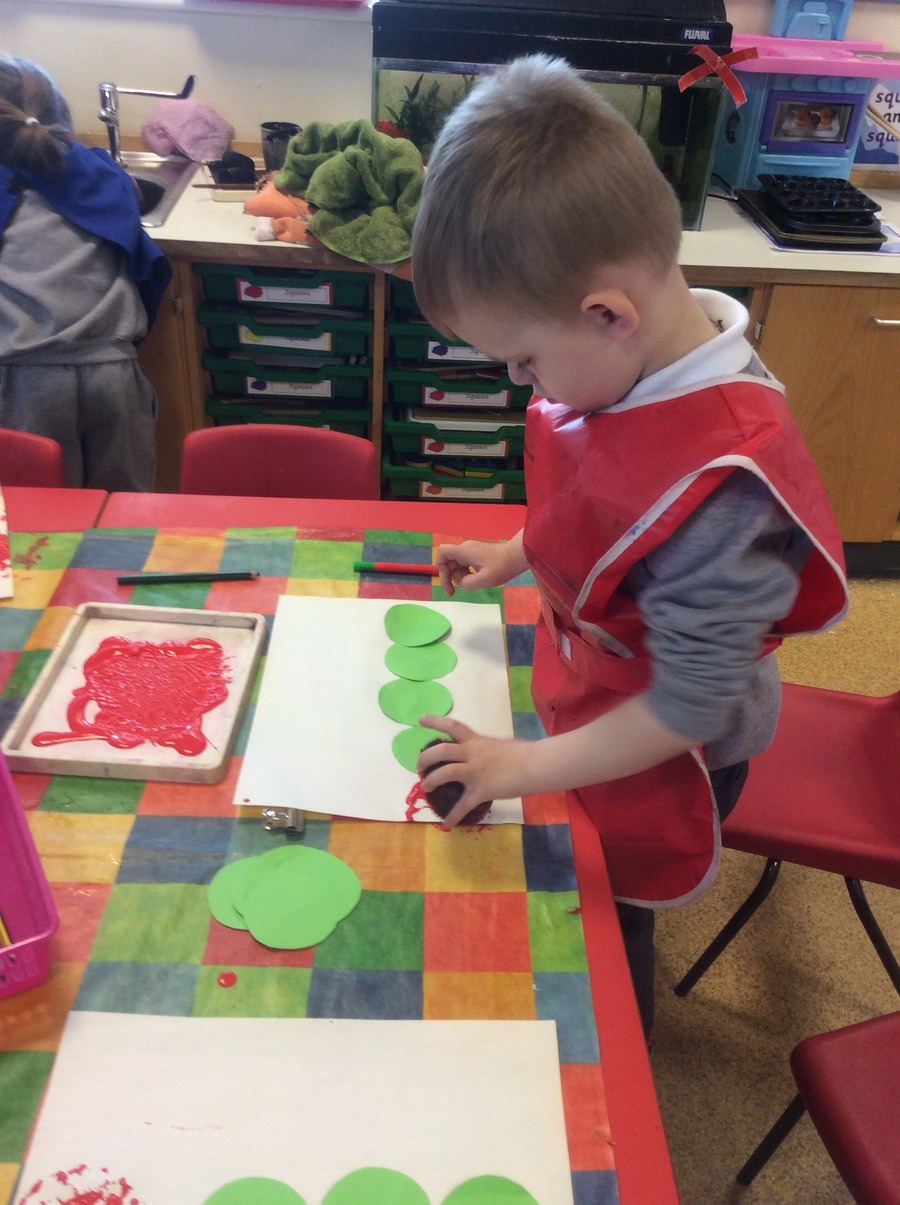 We had some special visitors in Nursery this week. Miss Chadderton brought ducklings to school. We discussed what ducklings turn into. We still have some eggs in the incubator that we are waiting to hatch.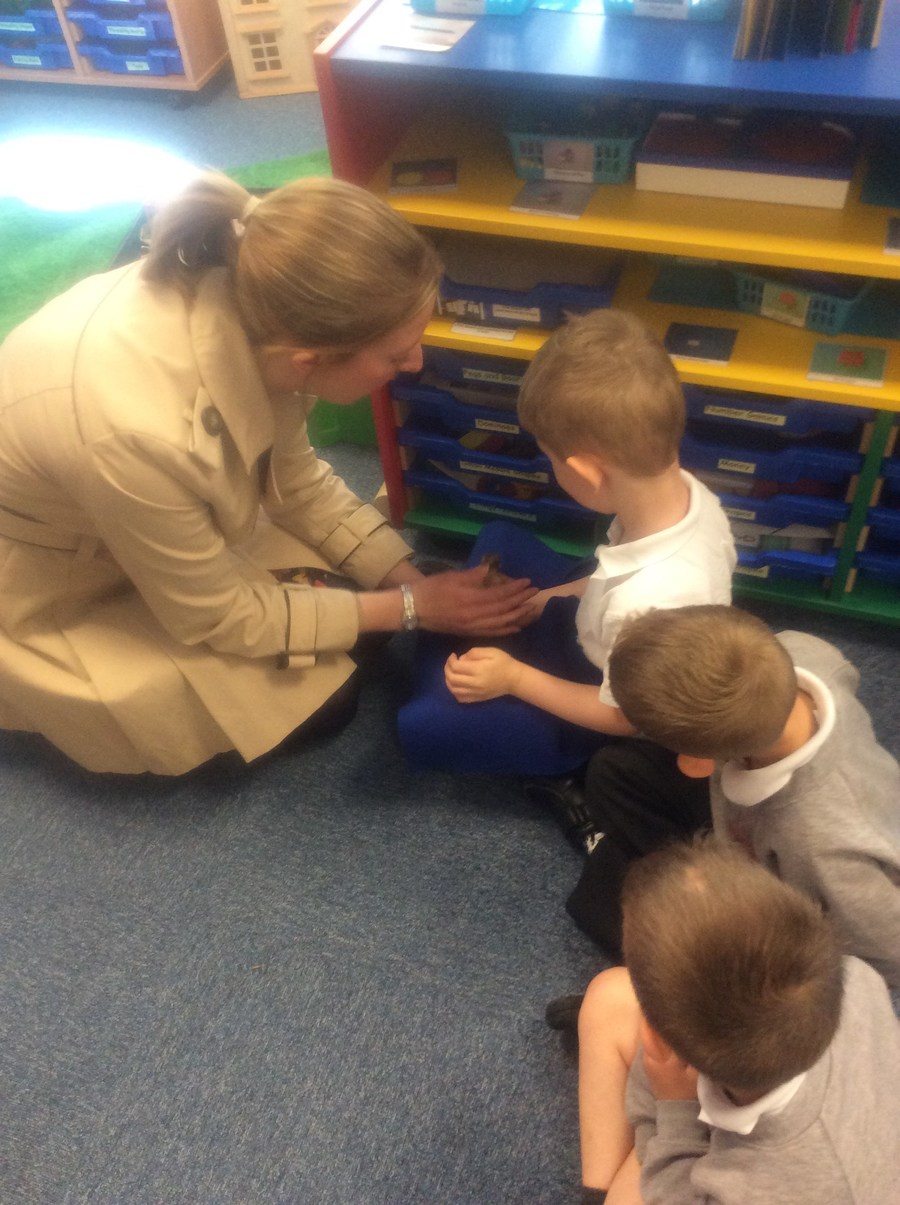 We have also been practising rhyming. We read the story 'What the ladybird heard' and completed rhyming phrases in the text. Some children managed to find rhyming pairs whilst playing in our classroom.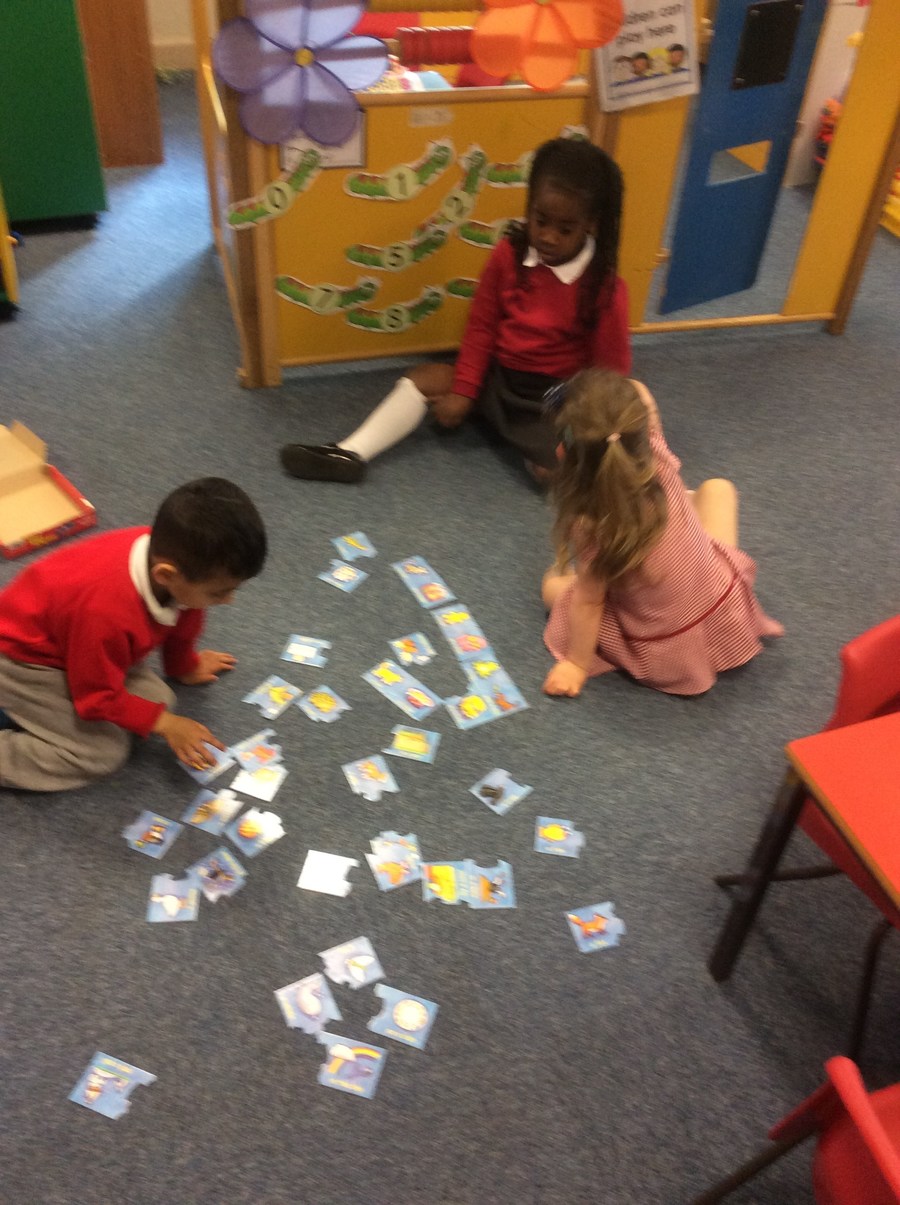 Week Beginning: 24.04.17
This week we have been continuing to think about Spring. We read the story The Train Ride and the children discussed the new baby animals that they could see. They added faces to the bubble paintings they created last week.
The children also learnt about the lifecycle of a chicken. We sequenced pictures to show the different stages that it goes through and talked about how it changes over time. Some children were able to discuss how we change as we get older.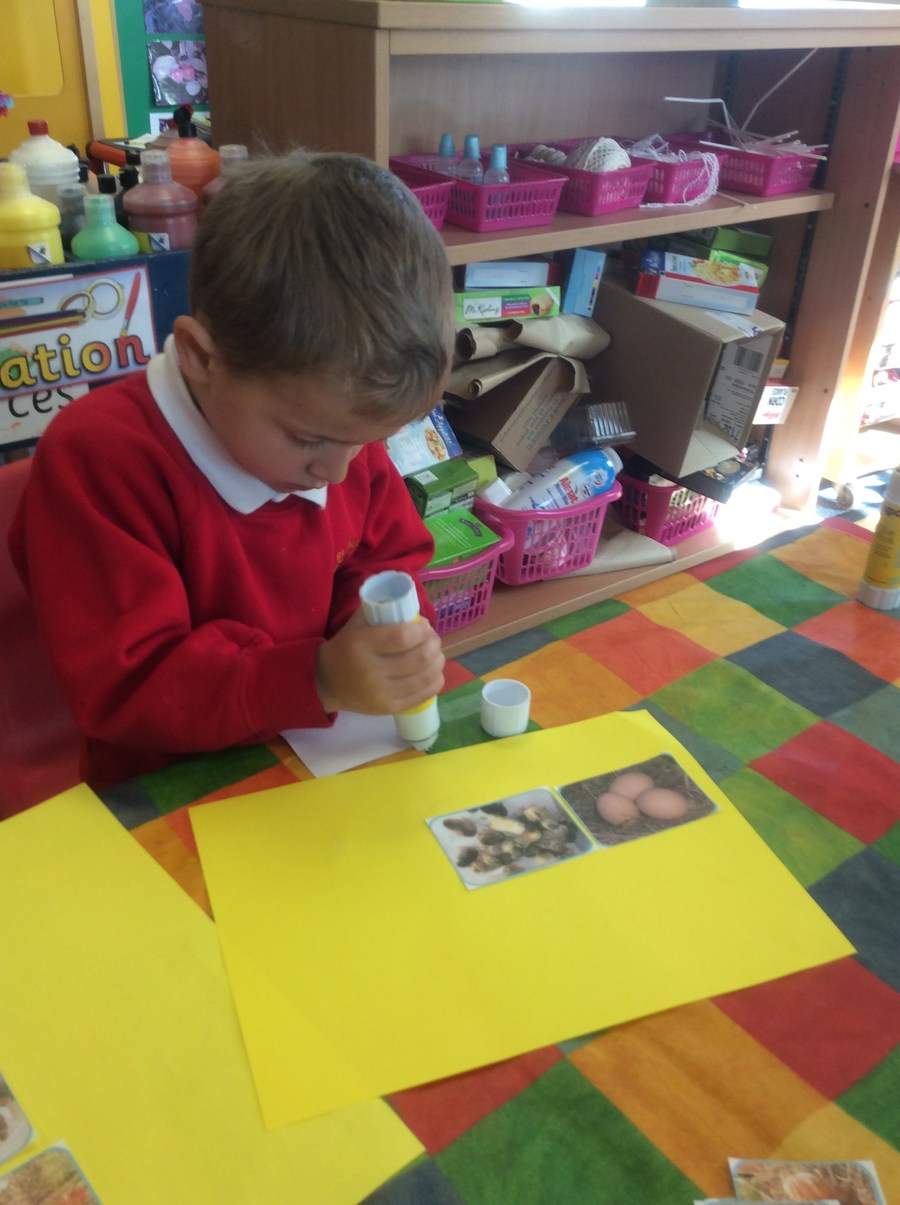 We have also been practising recognising and ordering numbers. Miss Chadderton put numbers on trains and asked us to put them in the right order.
Week Beginning: 17.04.17
This week we have been thinking about the signs of Spring. The children made bubble pictures of Spring lambs and chicks. We have had a surprise visitor in Nursery this week. Miss Chadderton brought in some eggs in an incubator. Mrs Holmes talked to us in small groups about the eggs. We guessed what might be inside them. Some people thought it would be baby ducks, other people thought it could be chicks, some children said it could be a baby goose.
We read the story Jasper's Beanstalk. The children had to remember what Jasper did to make his beanstalk grow. The children planted their own beanstalks with Mrs Haigh and Mrs Heap outside. We talked about growing things while playing in the garden centre inside and in the soil that Miss Chadderton added to the sand tray.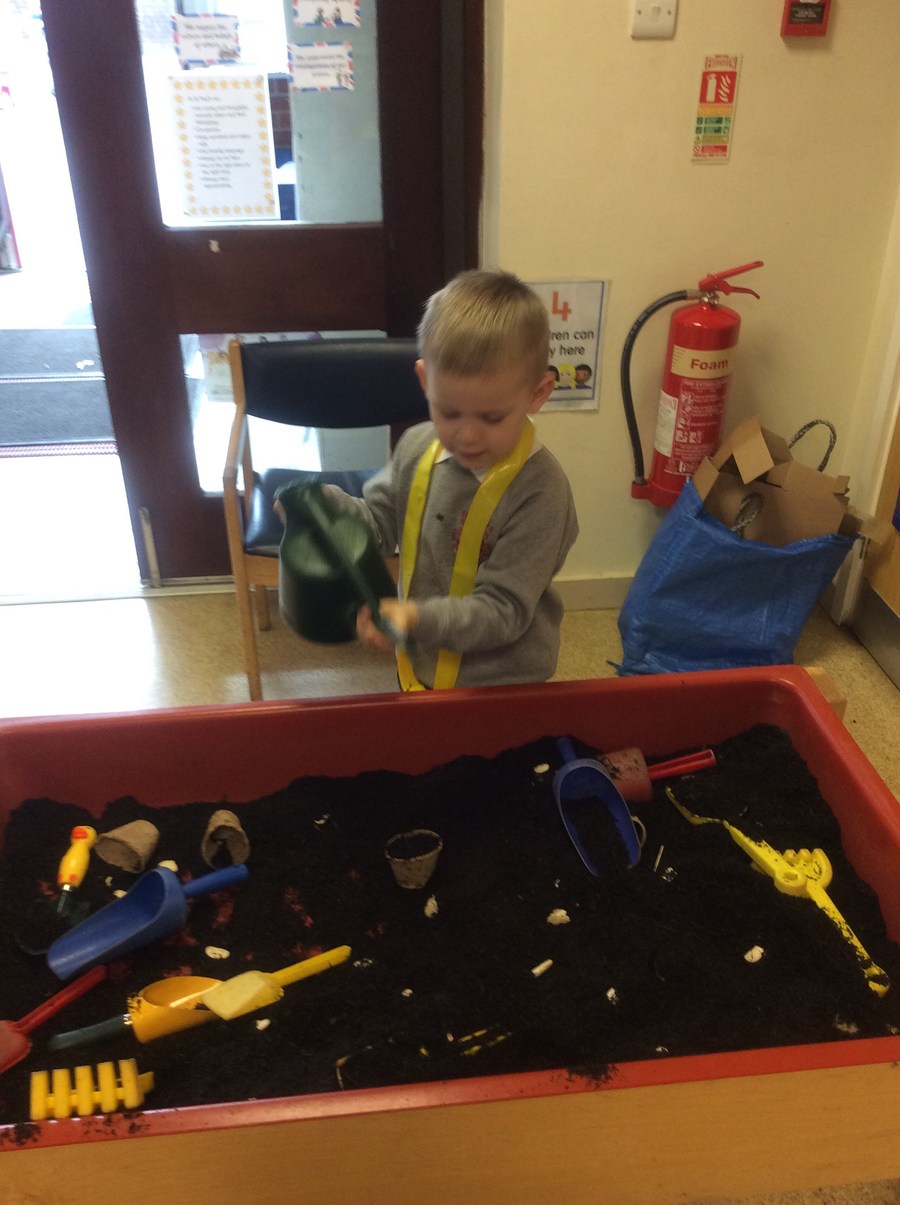 We found that beans and seeds make fantastic shakers. We made musical instruments and used them to sing our favourite songs.
We have been practising matching numbers and quantities this week. Miss Chadderton challenged us to put the right amount of seeds in the plant pots by reading the numbers on the front. She added numbers and quantity games all around the classroom, here are us playing a few.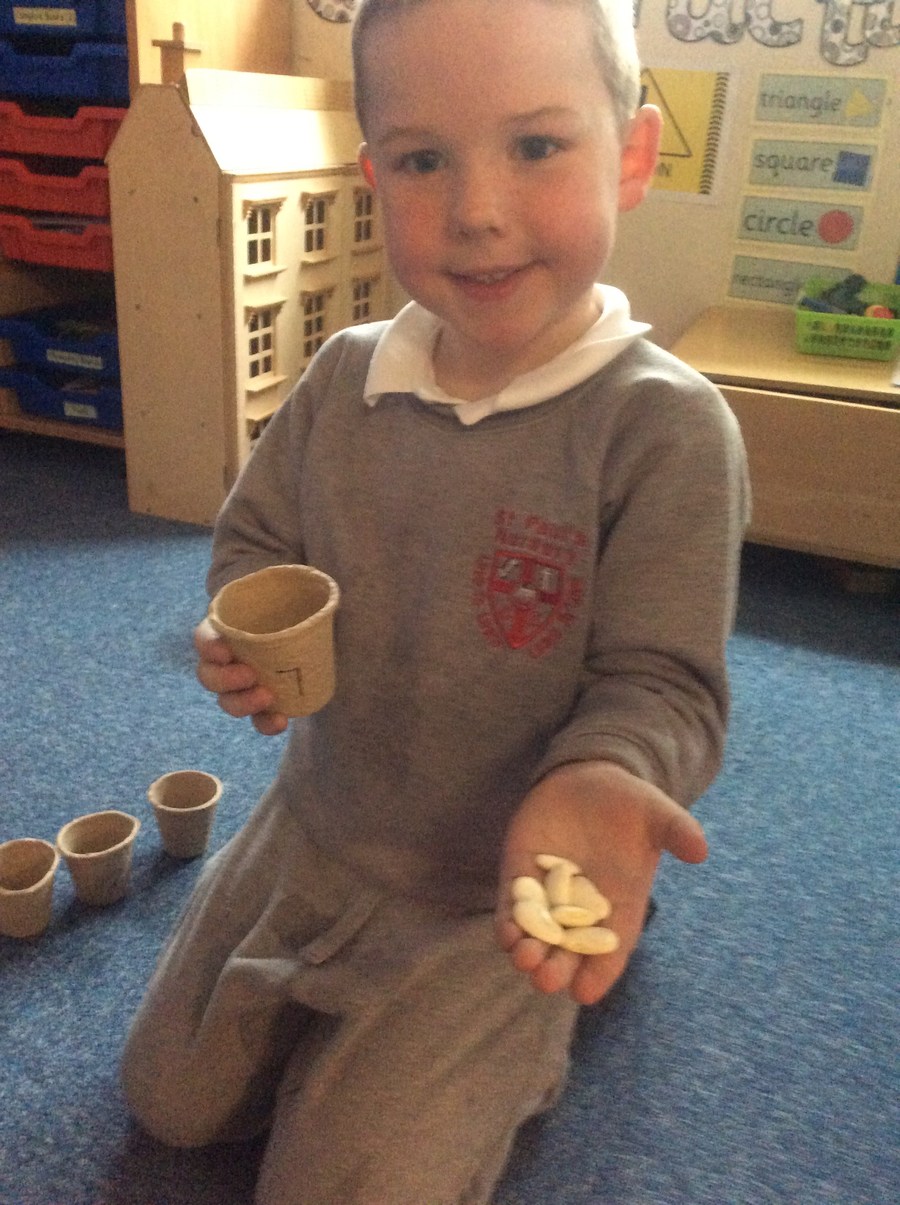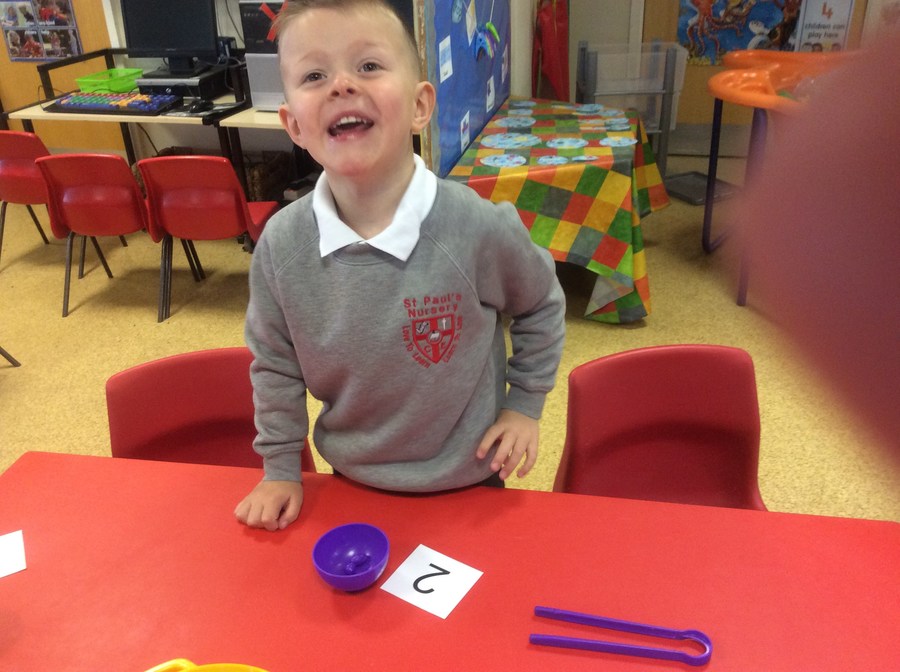 Week Beginning: 27.03.17 Easter Fun!
This week we have been learning the Easter Story. We made Easter cards by printing with pom-poms and tweezers.
We made Easter chicks using play dough, pipe cleaners and googly eyes.
We read numbers on Easter eggs and put them in the right order. We also found numbers inside chicks in the sand!
The children recognised and discussed pictures from the Easter story.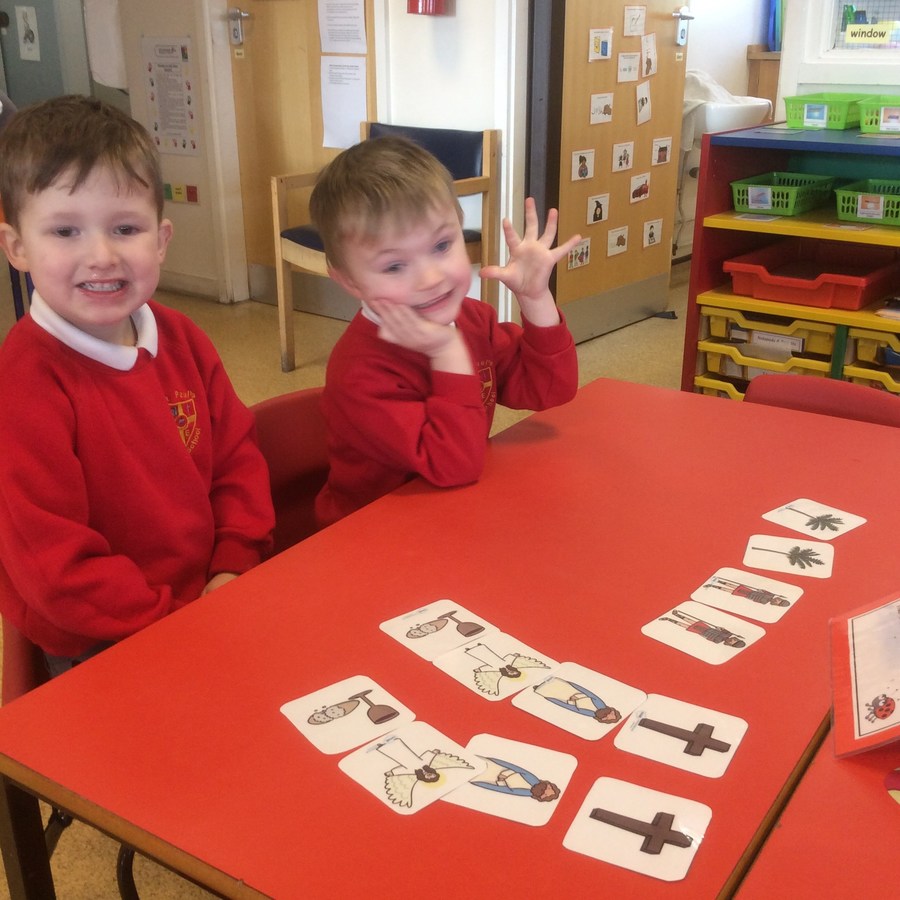 We had an Easter egg hunt and looked for words with the other classes.
Week Beginning 20.03.17
This week Nursery have been very busy. On Monday someone made a big mess in our classroom. They left footprints everywhere! Some of us thought it might have been a dog. Others thought it was a bear!
Miss Chadderton sectioned off areas of the classroom which she thought weren't safe. She gave some of us special jobs. She asked us to be Safety Officers. We had to wear a special badge and go around the room identifying problems and suggesting ways we could solve them. We discussed ways we could stay safe indoors and outside.
On Tuesday we continued to think about staying safe on our walk to the Post Office. We wore special jackets so that the cars could see us and stayed with the adults in Nursery.When we got to the Post Office we found out all about the special job that a Postal Worker does. We also posted our Mother's Day cards. The lady in the post office showed us her special scales for weighing very heavy parcels.
After we had finished in the Post Office we visited the Library, you'll never guess who was there…….Tom Bear! We told Tom that he shouldn't walk to the Library on his own and all about the importance of road safety. Miss Chadderton read a story called 'The Everywhere Bear' by Julia Donaldson. It was about a class teddy who had been everywhere and turned up in the Library just like Tom!
On Wednesday we looked at more, less and the same. We played lots of different games such as counting pennies in our piggy banks, dominos, fishing for ducks and finding spiders in the sand, look at our pictures....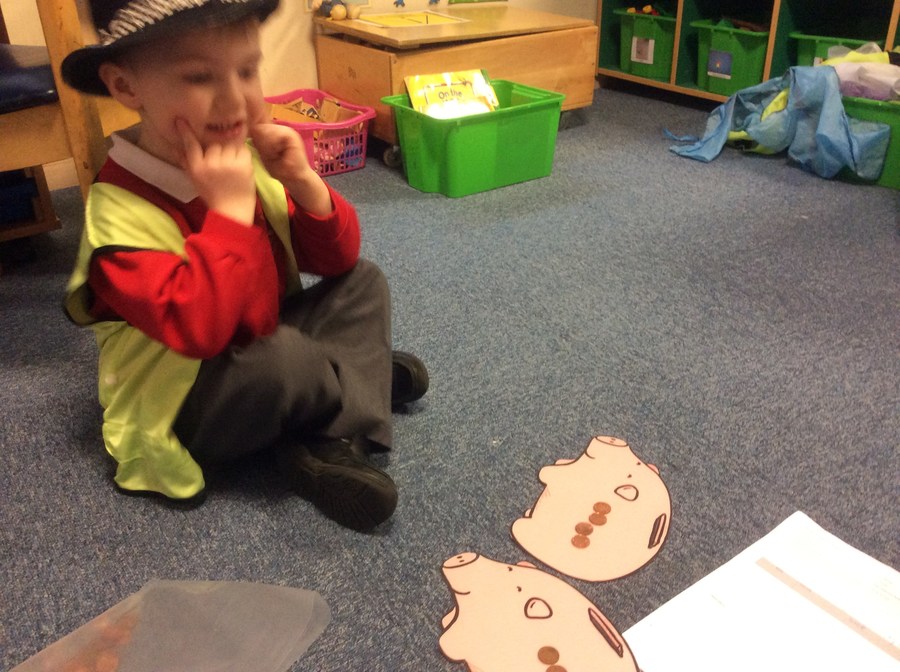 Our Thursday we had a special visitor, Police man Steve came to see us. He told us all about his special job. He showed us things that help him to do his job. We tried on some of the Police clothes and we even had a turn in his Police car.
On Friday it was Red Nose Day. We dressed up in mismatched clothing and brought £1.00 to raise money for Comic Relief. Miss Chadderton told us a story about a little girl called Haja whose family didn't have very much. We iced biscuits and sold them to raise money for charities that support people in need.
Week Beginning 13th March 2017
This week we have been thinking about the Fire Service. In Maths we practised counting using one to one correspondence. We sang the song 5 Little Firemen and made firemen handprints. Look at our pictures!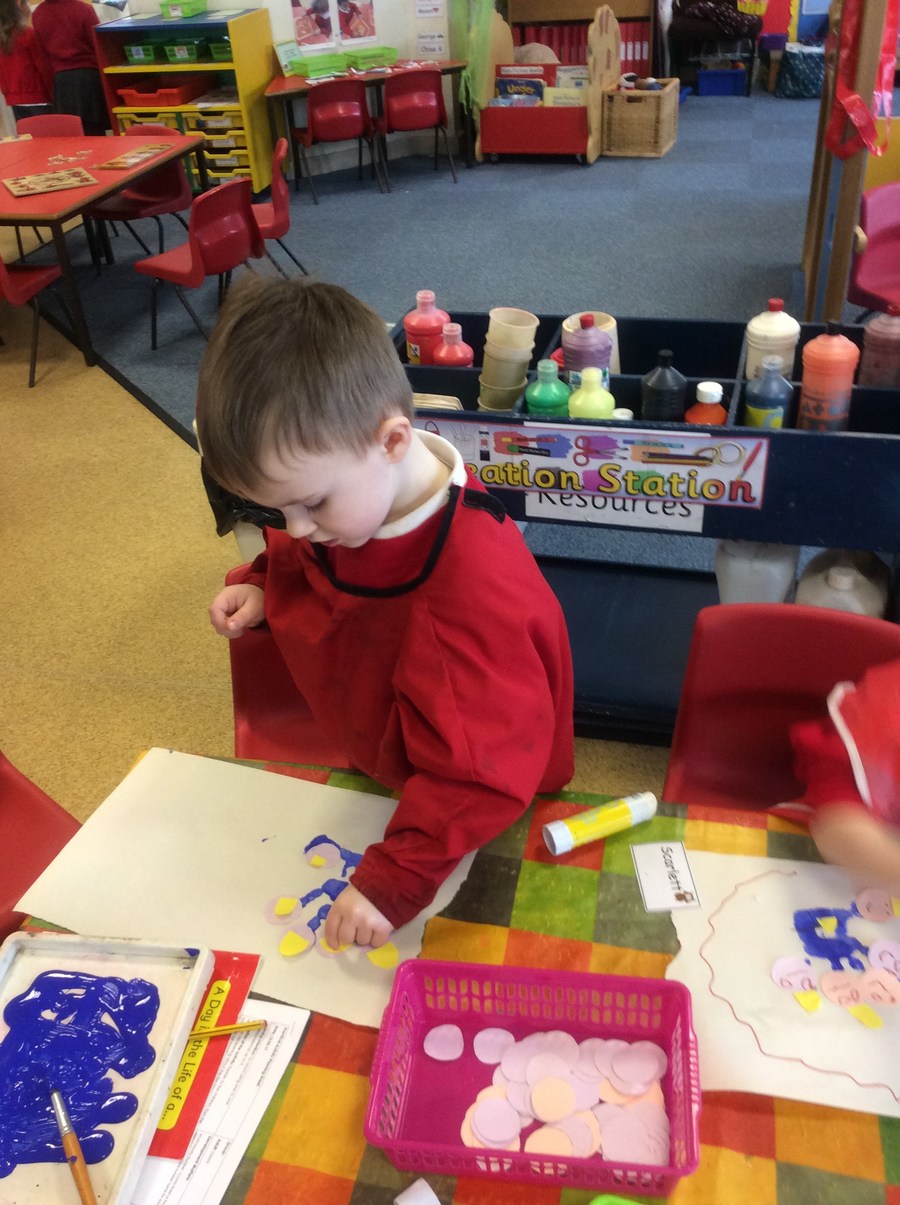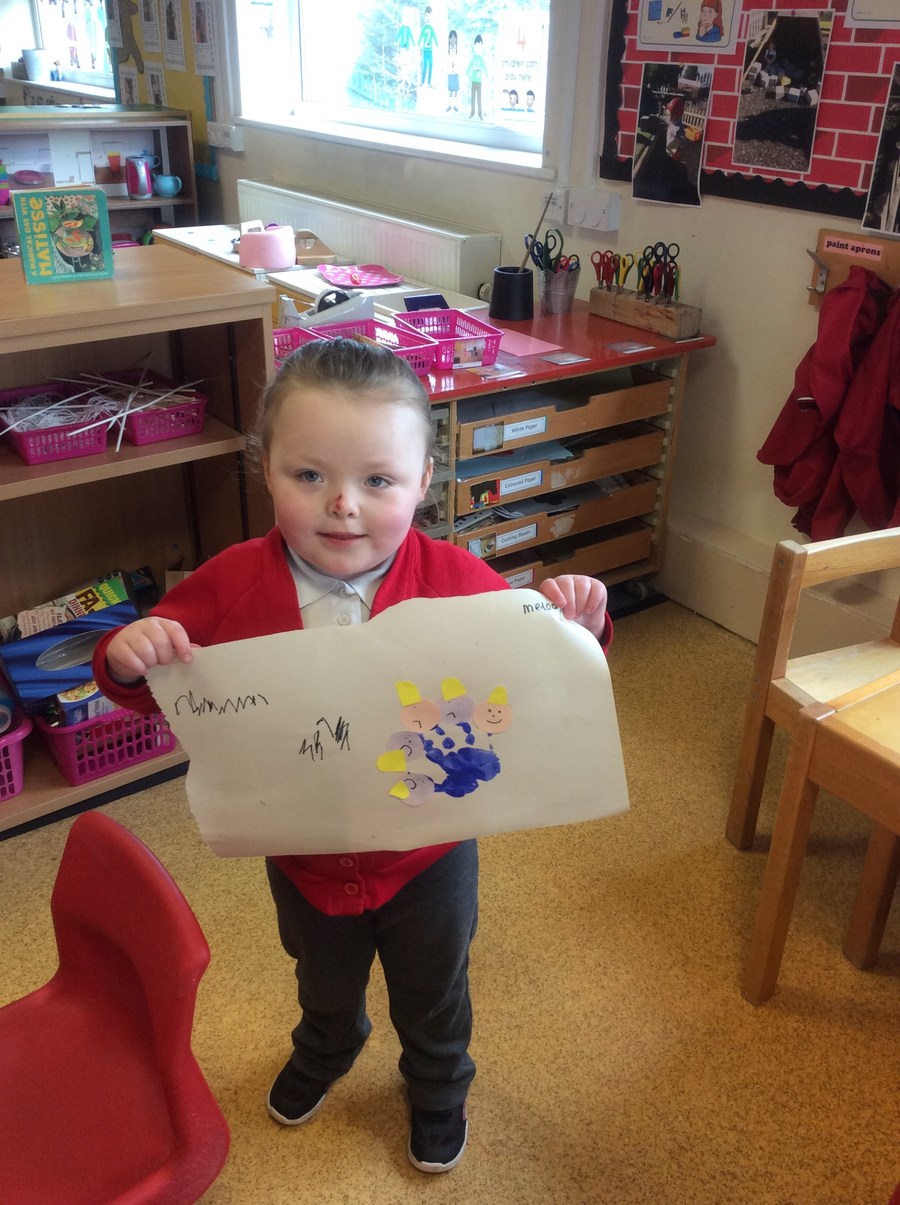 We have also been making our Mother's Day cards. The children discussed in small groups who they 'loved to bits!' and why. They gave some super answers. We will let you have a sneek preview....don't tell Nursery!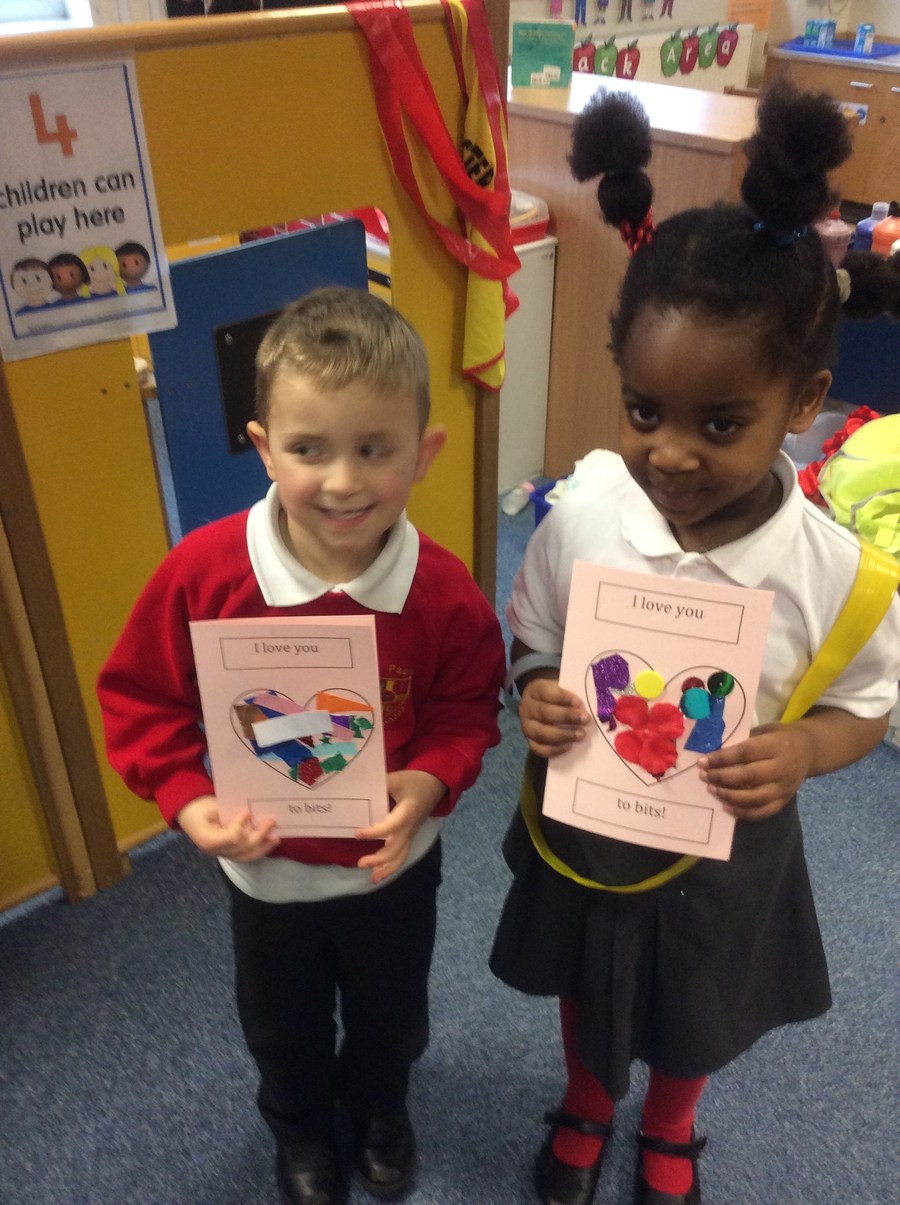 Joe's Daddy very kindly organised for the Fire Service to come and visit us at school. We were so excited! We thought of lots of questions we wanted to ask.
The Firemen told us about all the different jobs they do and the special equipment they use to help them. Then they challenged Miss Chadderton to get dressed up in the Fireman's outfit in 21 seconds! She just about managed it! We all had a turn at wearing the Fireman's yellow hat and squirting water using the Fireman's hose. Look at our pictures, it's been a busy, fun week!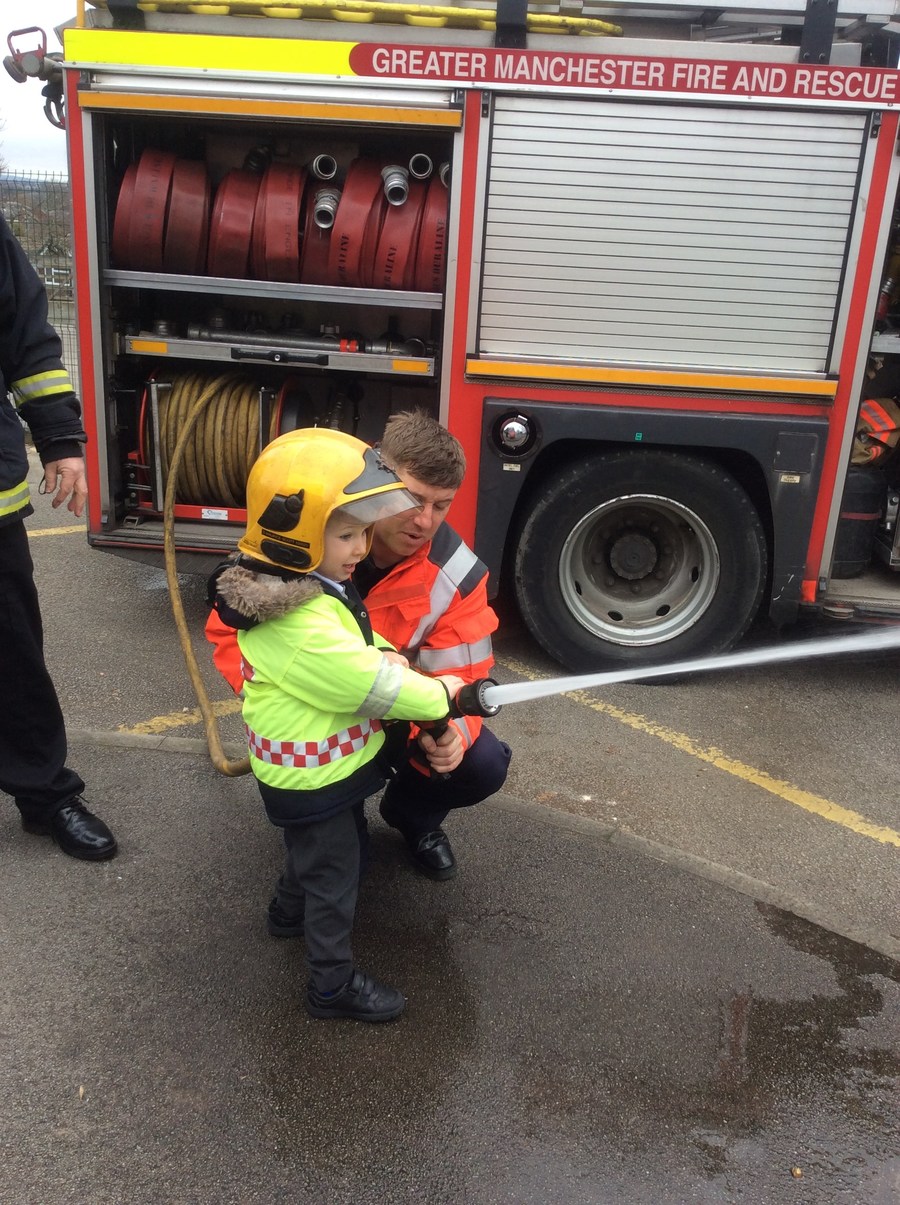 Week Beginning: 6th March 2017
This week we have been discussing the Police. The children watched a story about Inspector Gadget and a naughty magician who stole lots of gold. The children were encouraged to describe the naughty magician and we made wanted posters to help Inspector Gadget to find him.
Later in the week we discovered that Miss Chadderton had stolen all the gold. She had hidden it in our classroom. We worked in groups to find it. We used positional language to say where it was.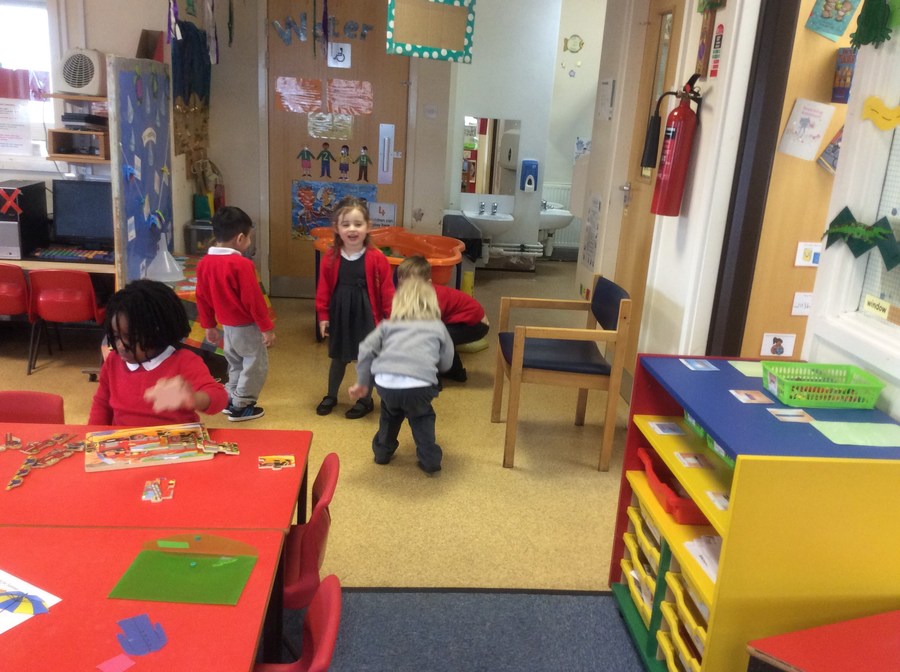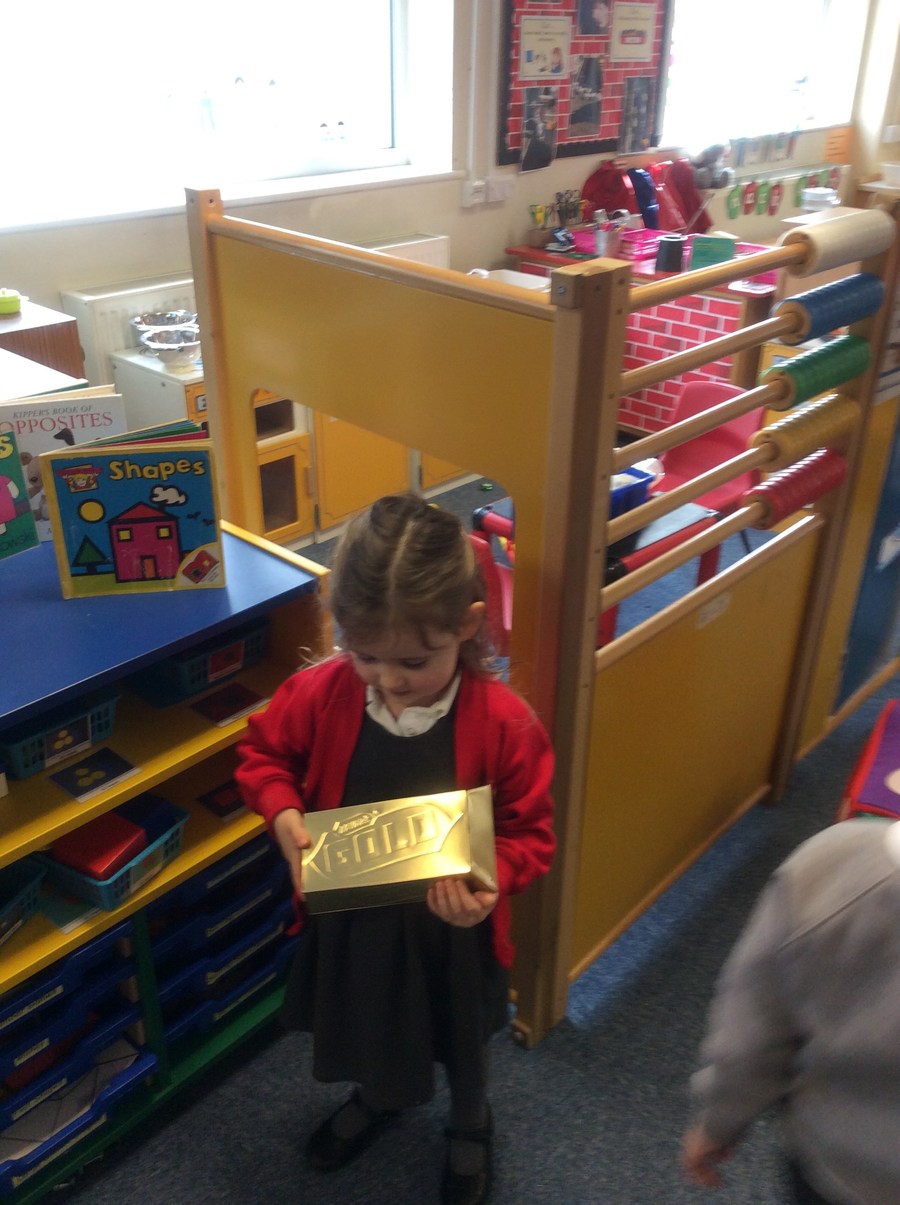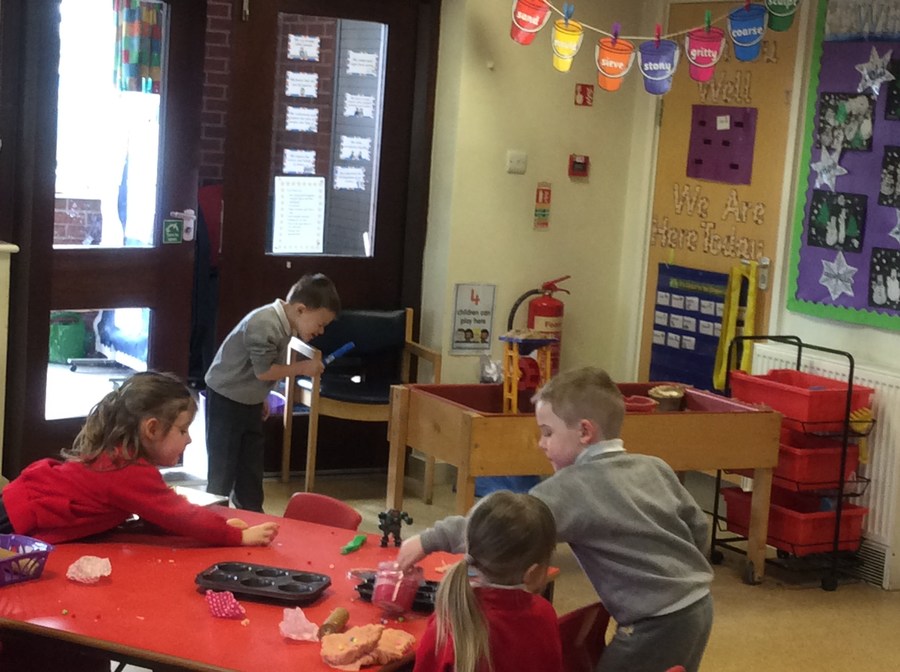 In PE we have been learning to step using alternate feet. We have practised this on balancing and climbing equipment.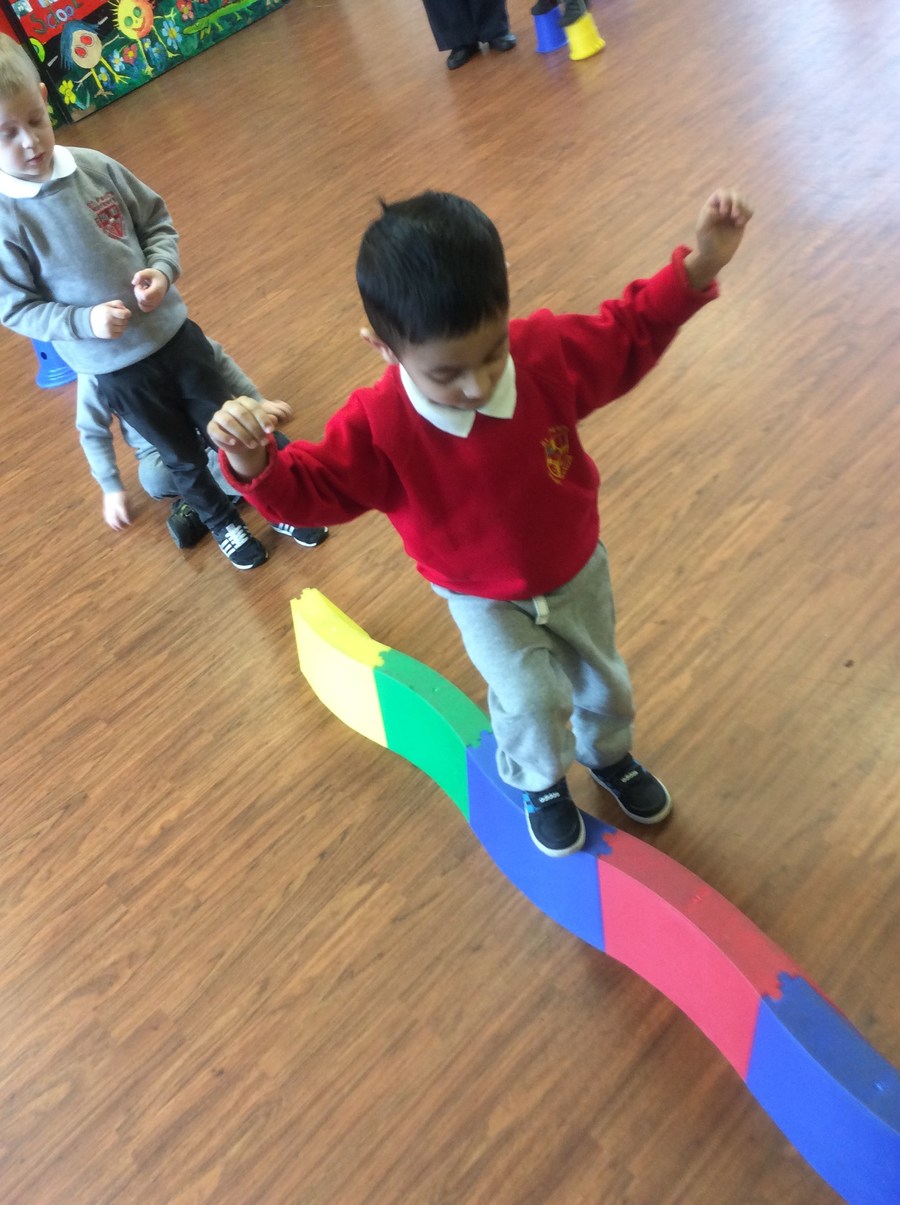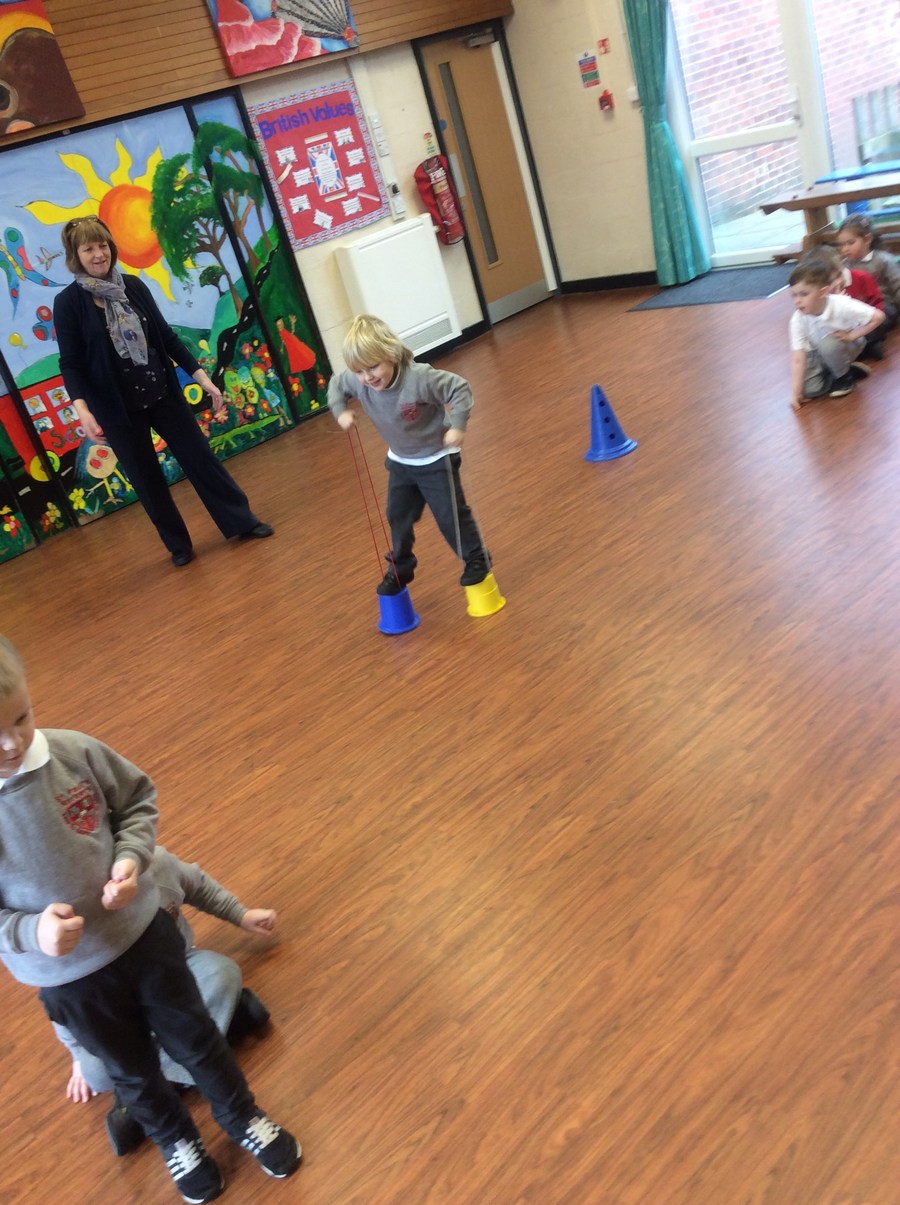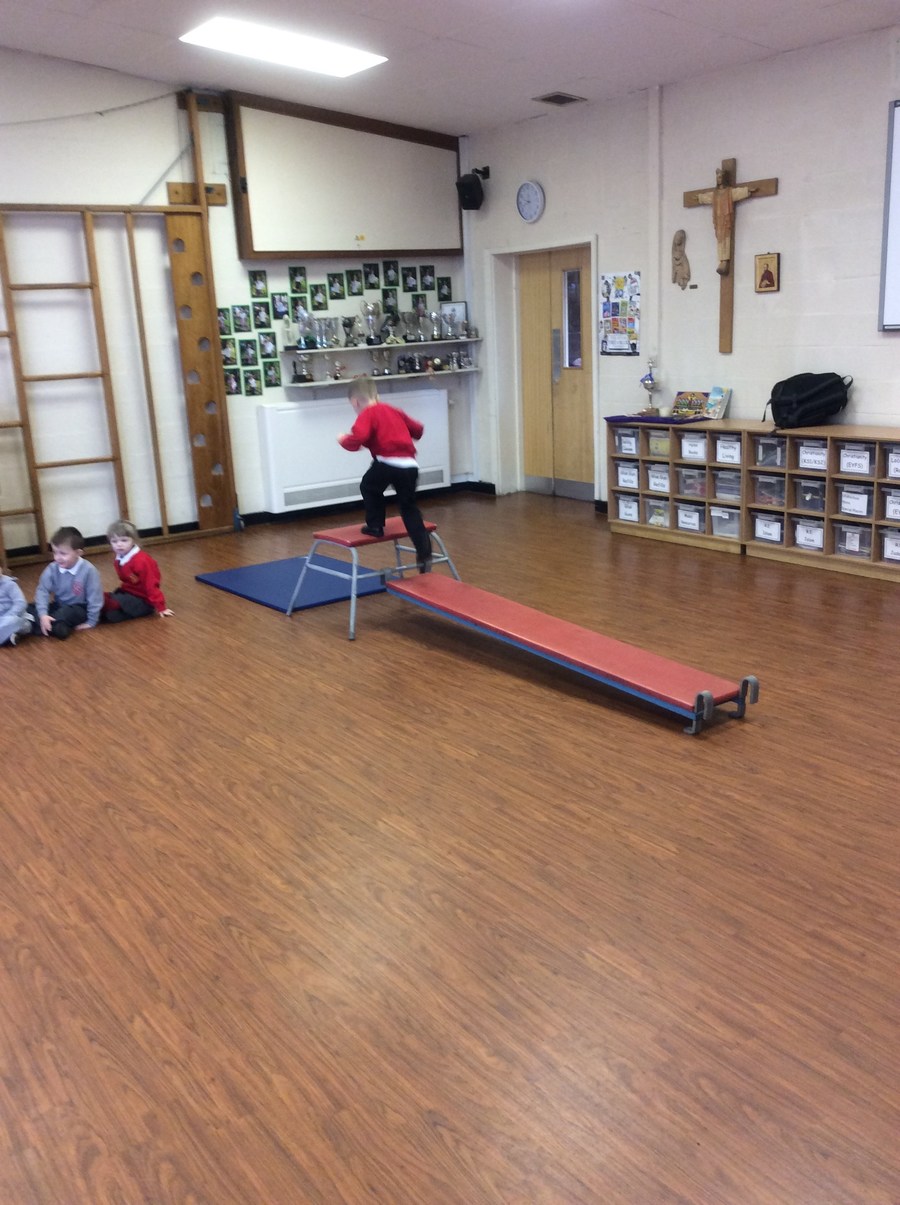 Our visit from Doctor Charlotte
We had a very special visitor to Nursery this week. Doctor Charlotte came to see Nursery and Reception. She told us all about how Doctor's can help us. She helped us to find our hearts and we used her stethoscope to listen to each other's heart beats.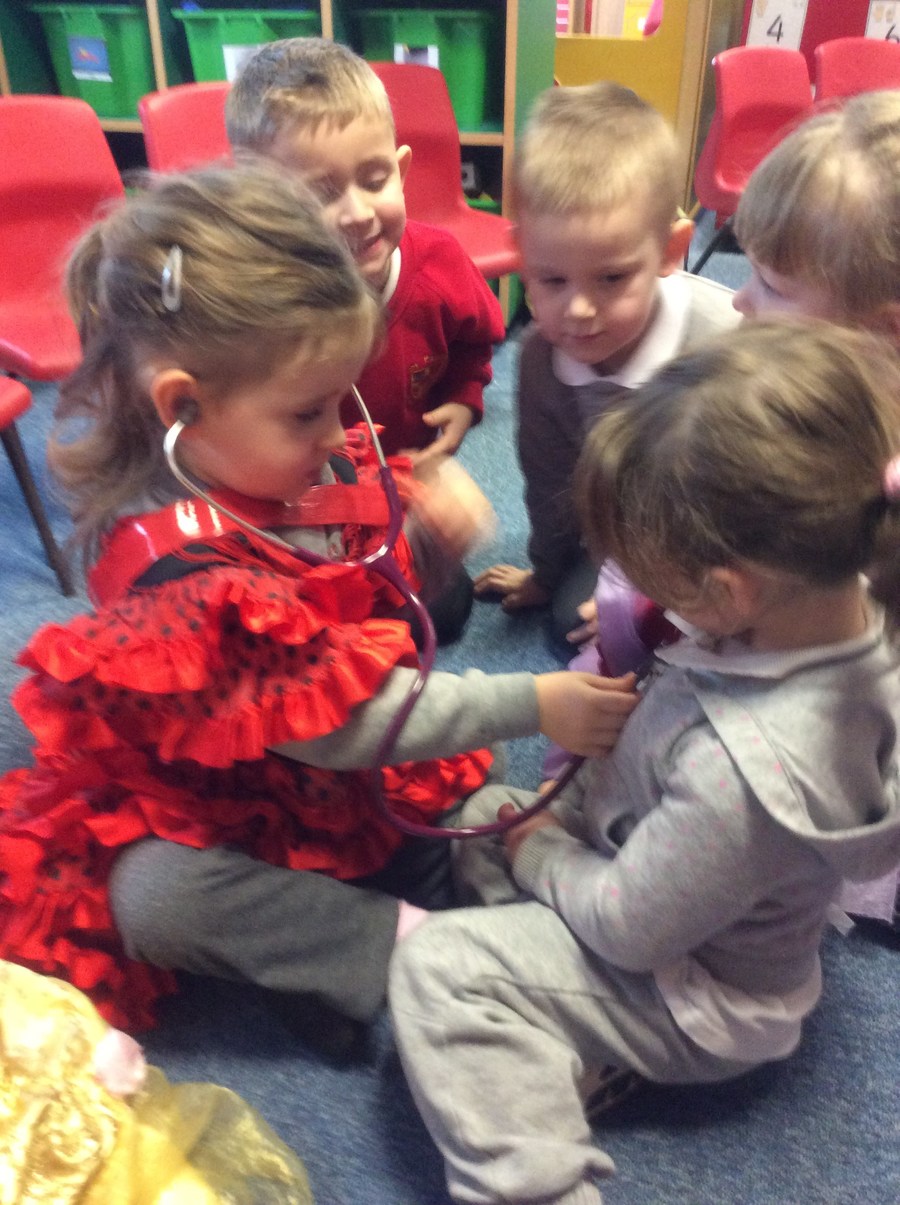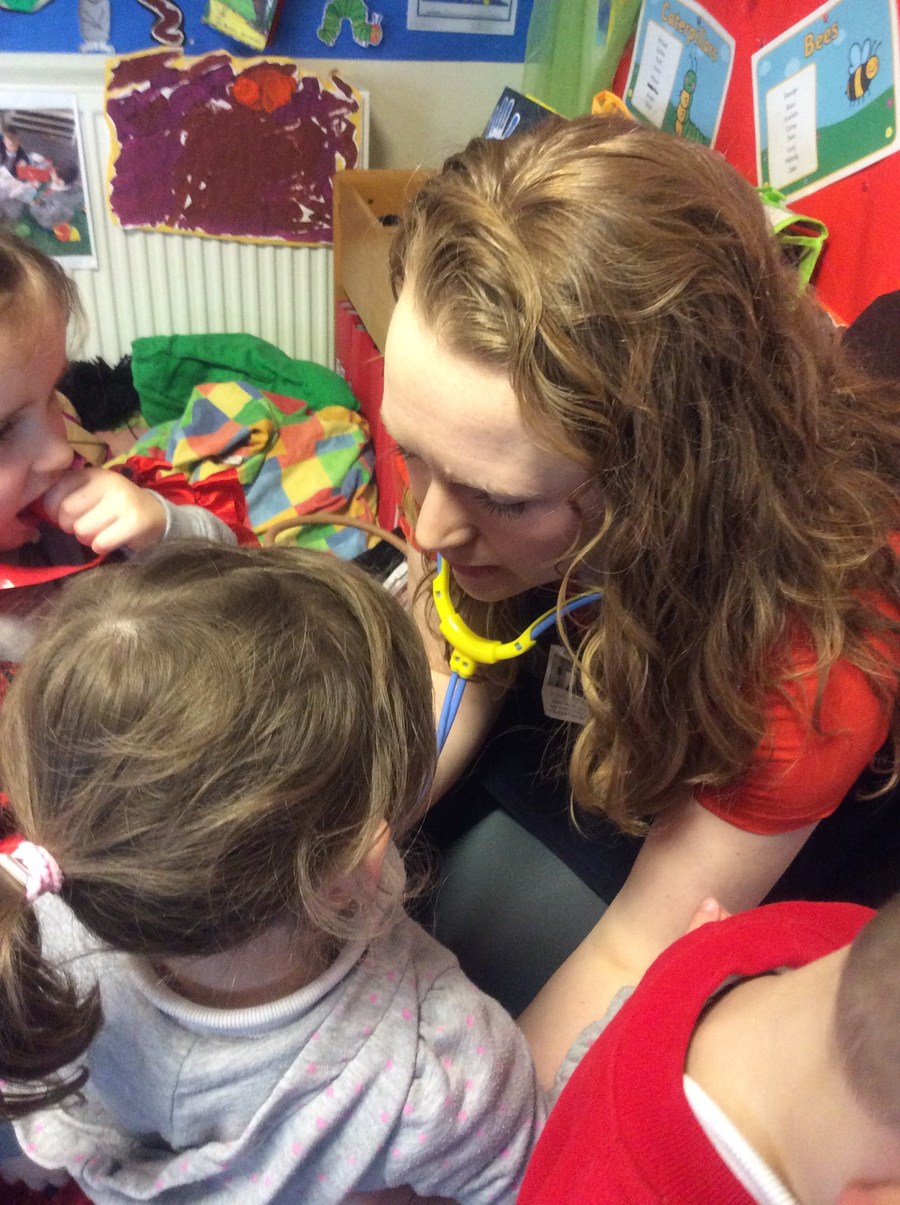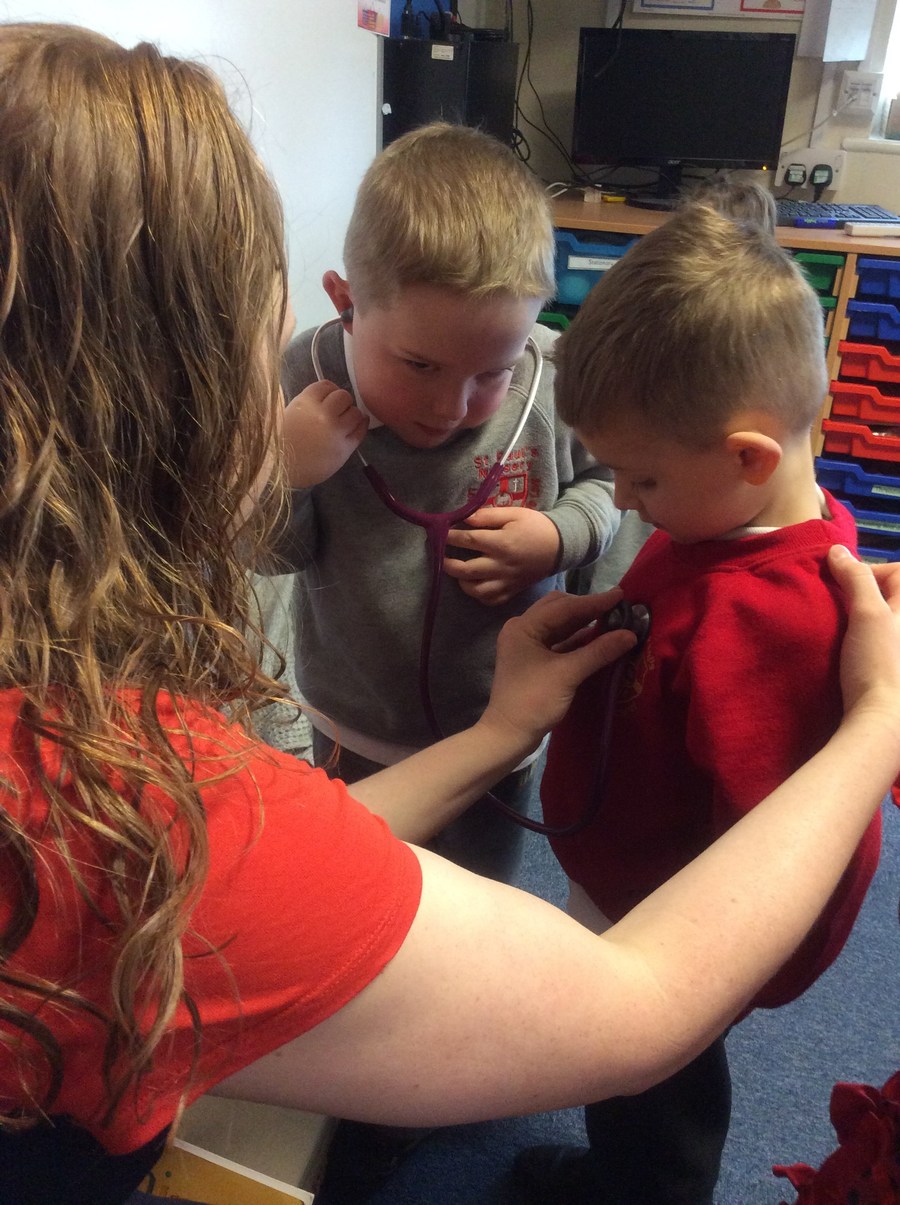 Nursery Donations:
Come and look at what we have been buying with your donations.
February
Miss Chadderton used your Nursery donations to buy ingredients for Pancakes. We made lists of yummy toppings we could have on them. We loved making and eating them on Pancake Day.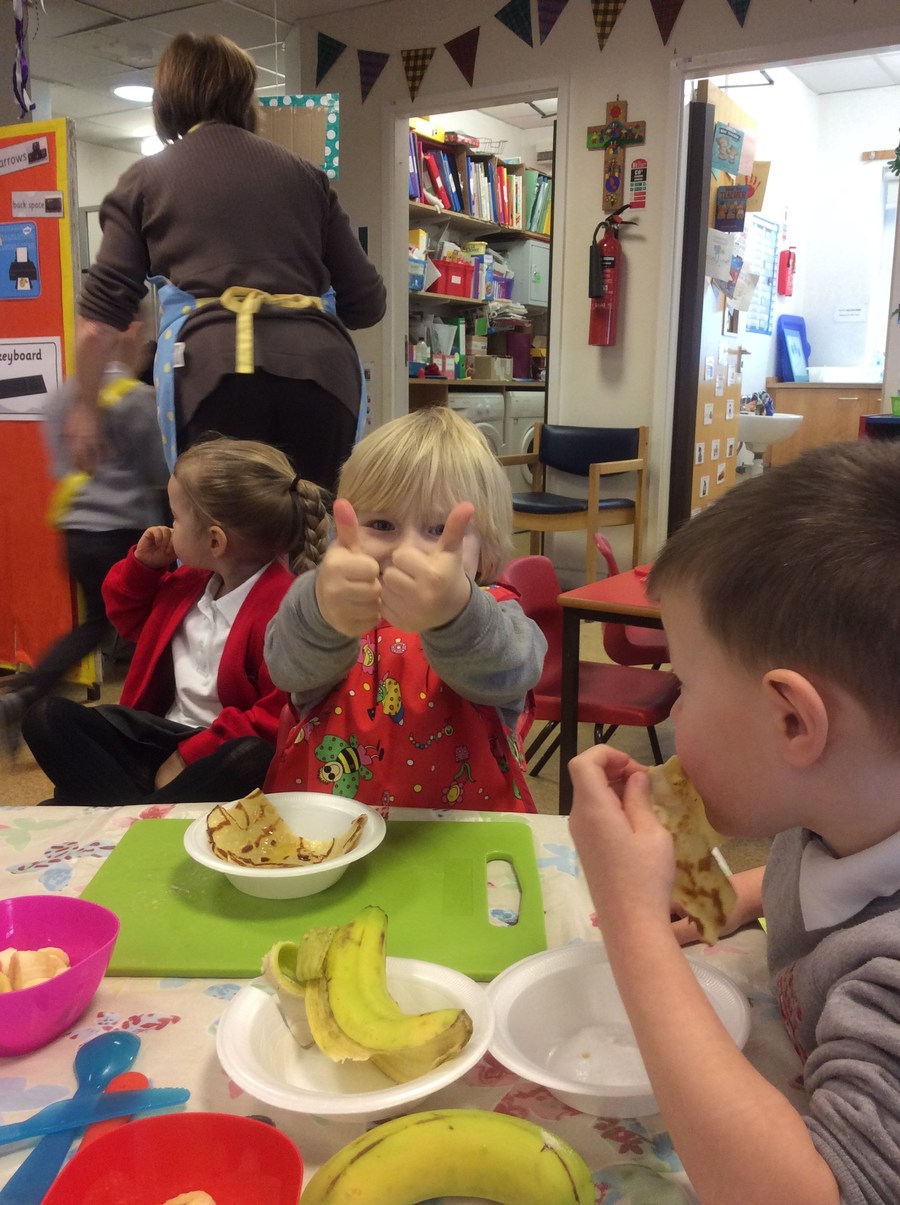 Week Beginning: 27th February 2017
Our topic this half term is People Who Help us. This week we have been thinking about how our families help us. Thank you to everyone that brought in photos. The children told their friends who they lived with and how they help them. Some children also told their group about special places they had visited with friends and family.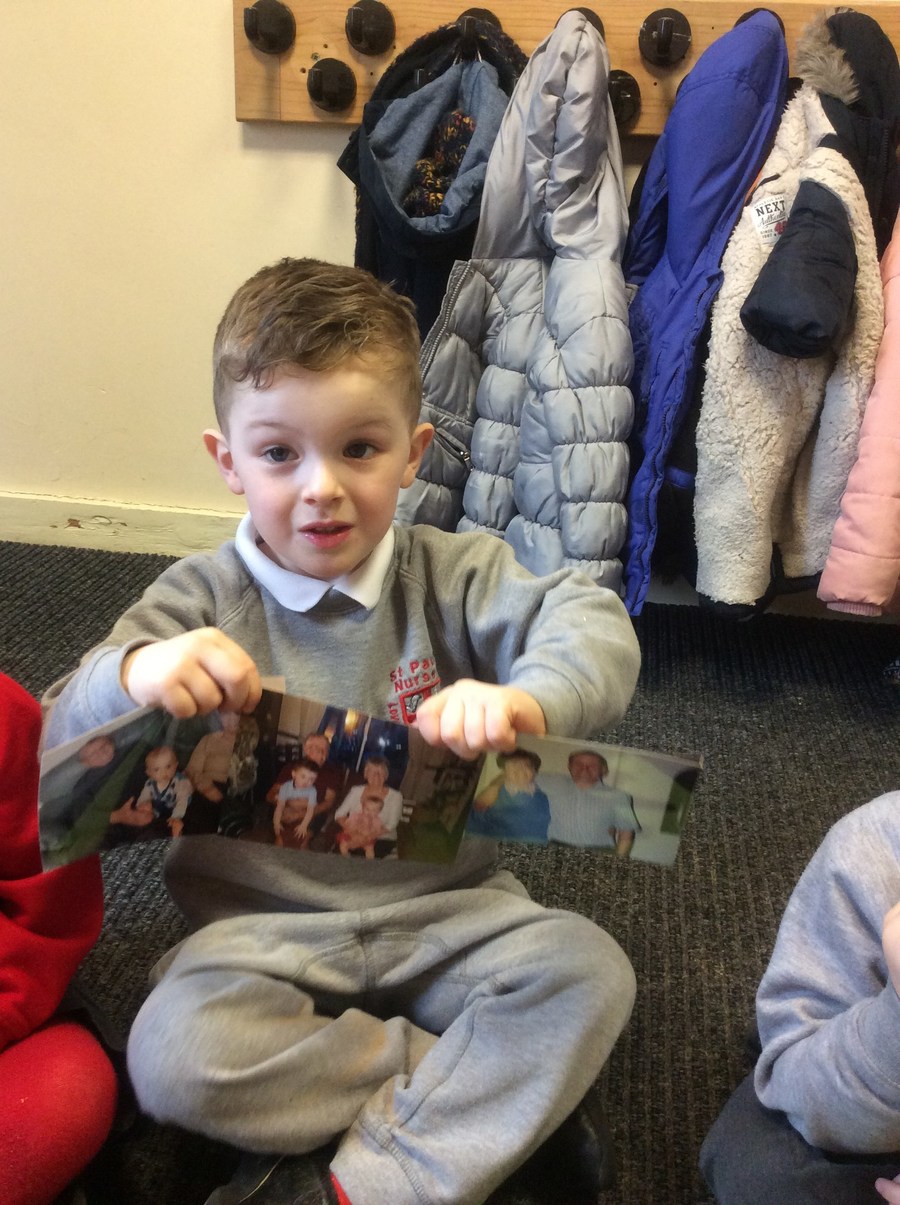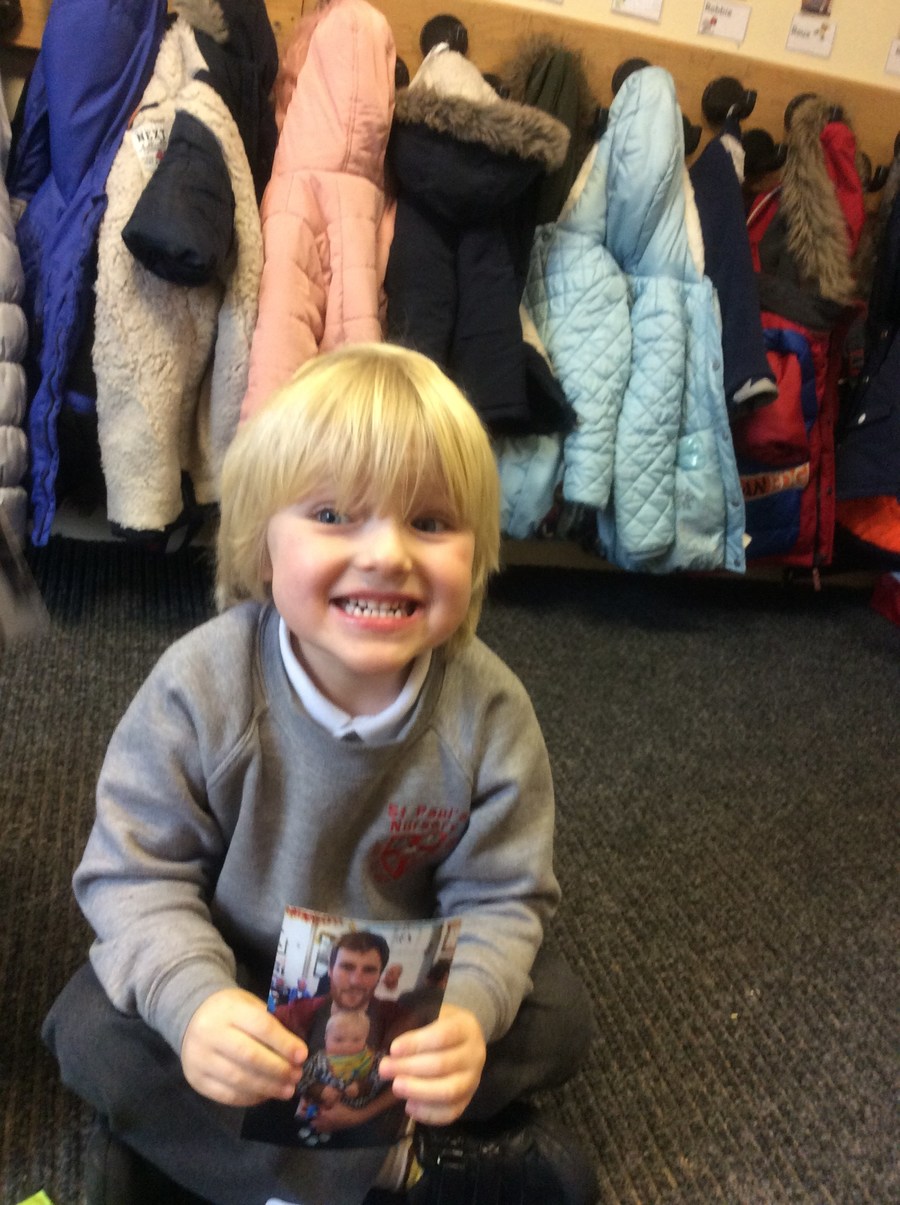 As part of our Literacy work we have been discussing Pancake Day. The children wrote lists of items they thought we might need to make our pancakes. We also thought of toppings we might like on our pancakes and added them to our lists.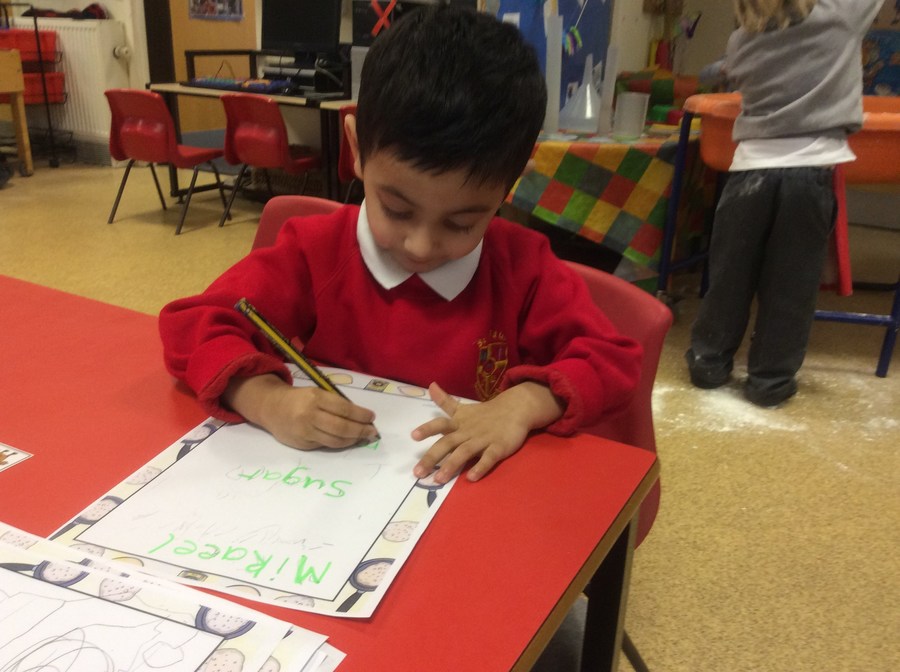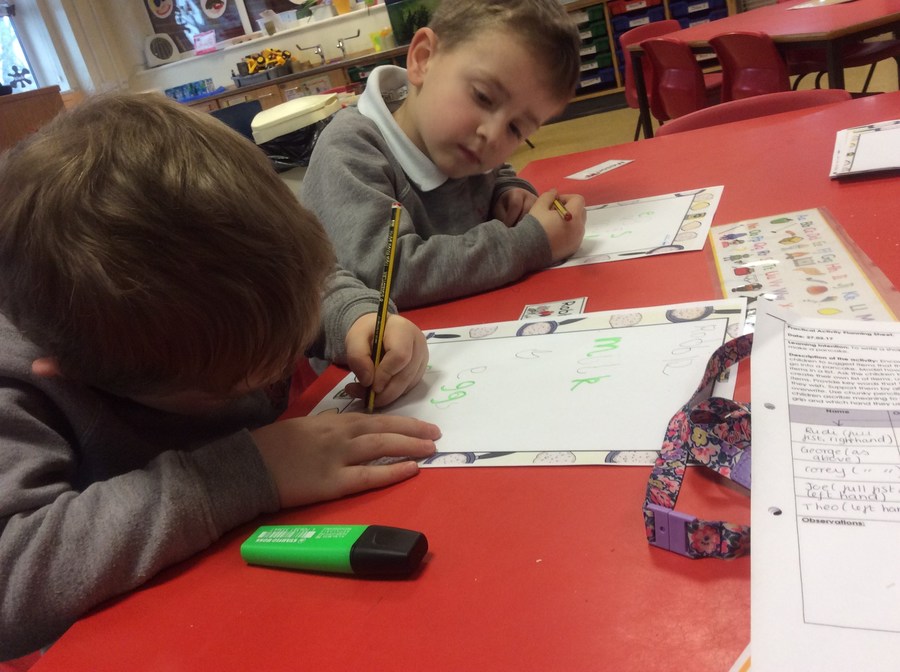 On Tuesday it was Pancake Day. We made Pancakes! We all helped to mix the ingredients together. When they were ready we topped them with our favourite toppings. The children told the adults about other special celebrations when they are allowed to eat special foods.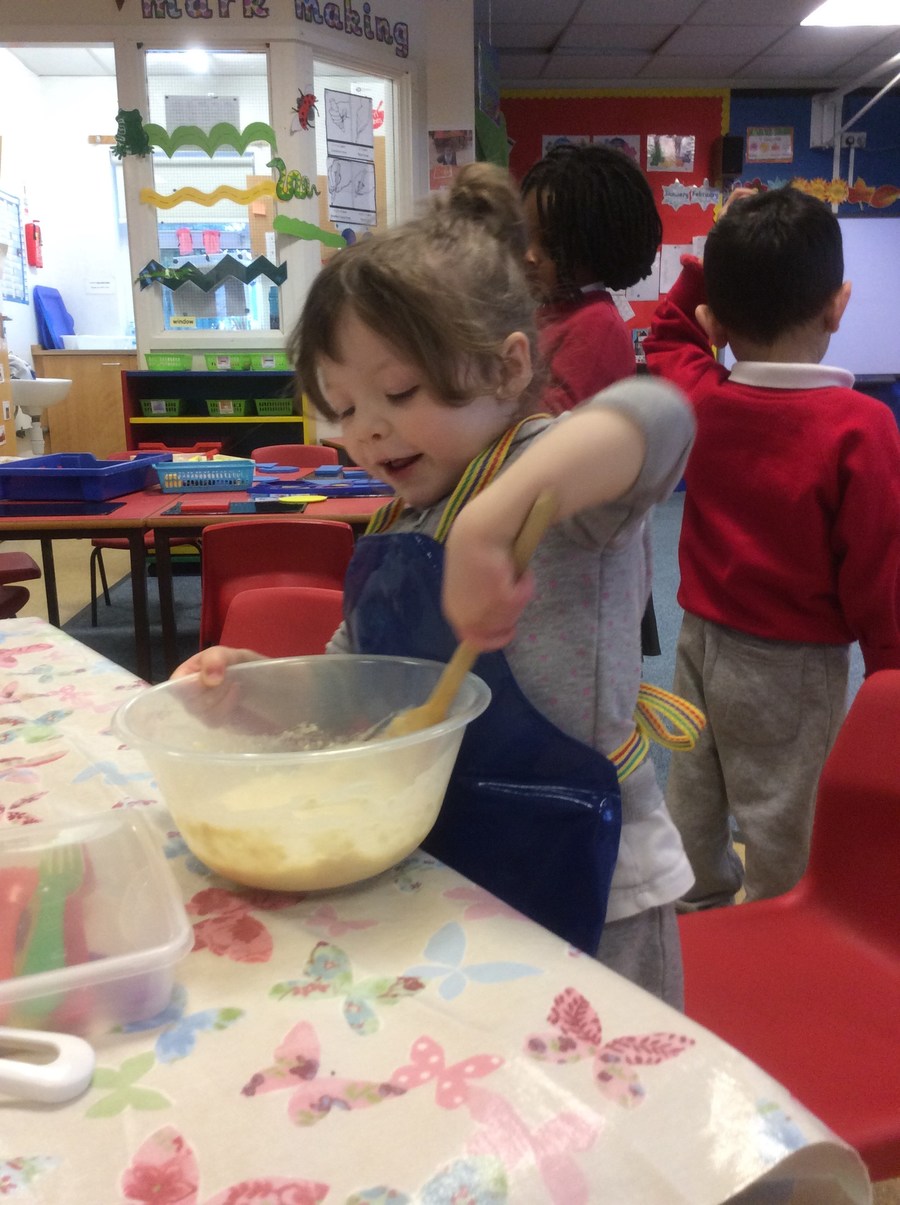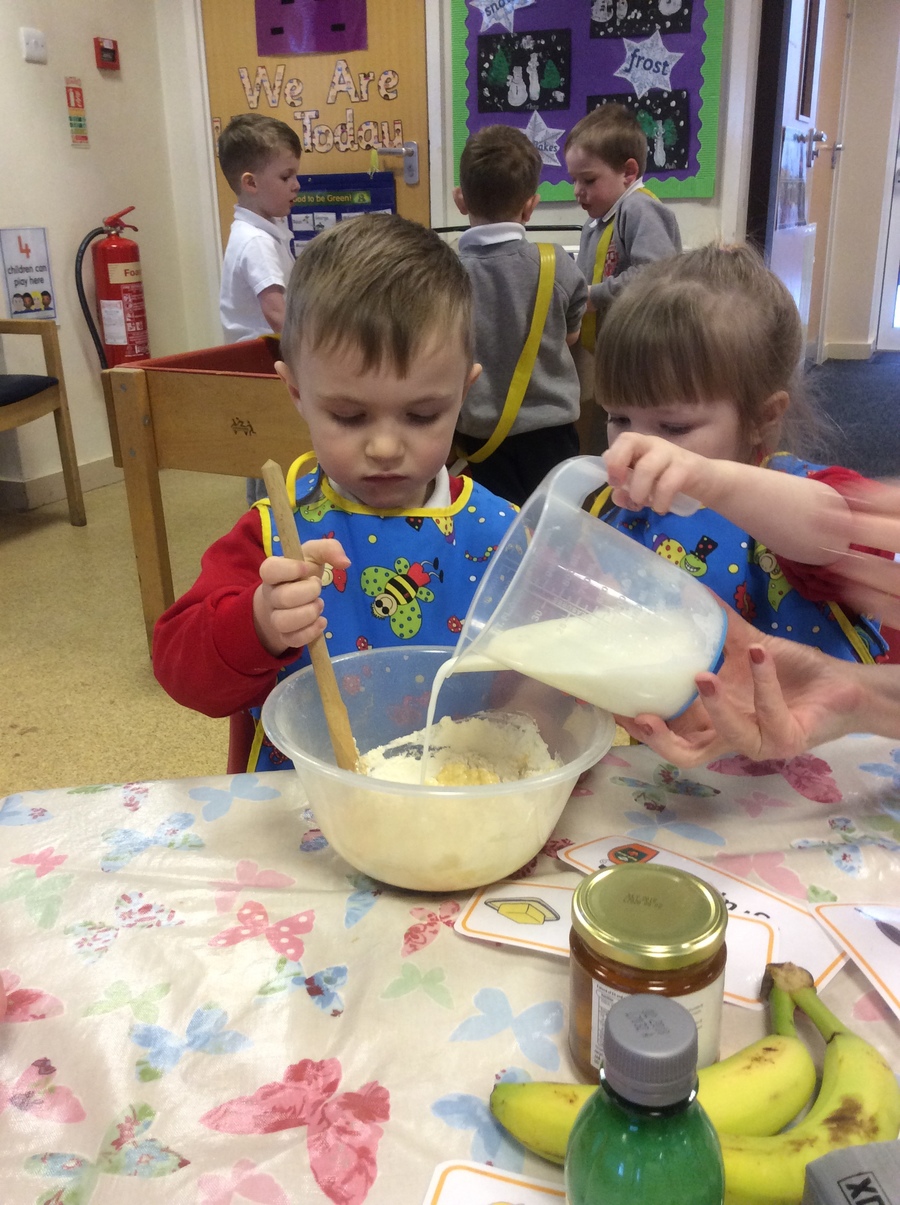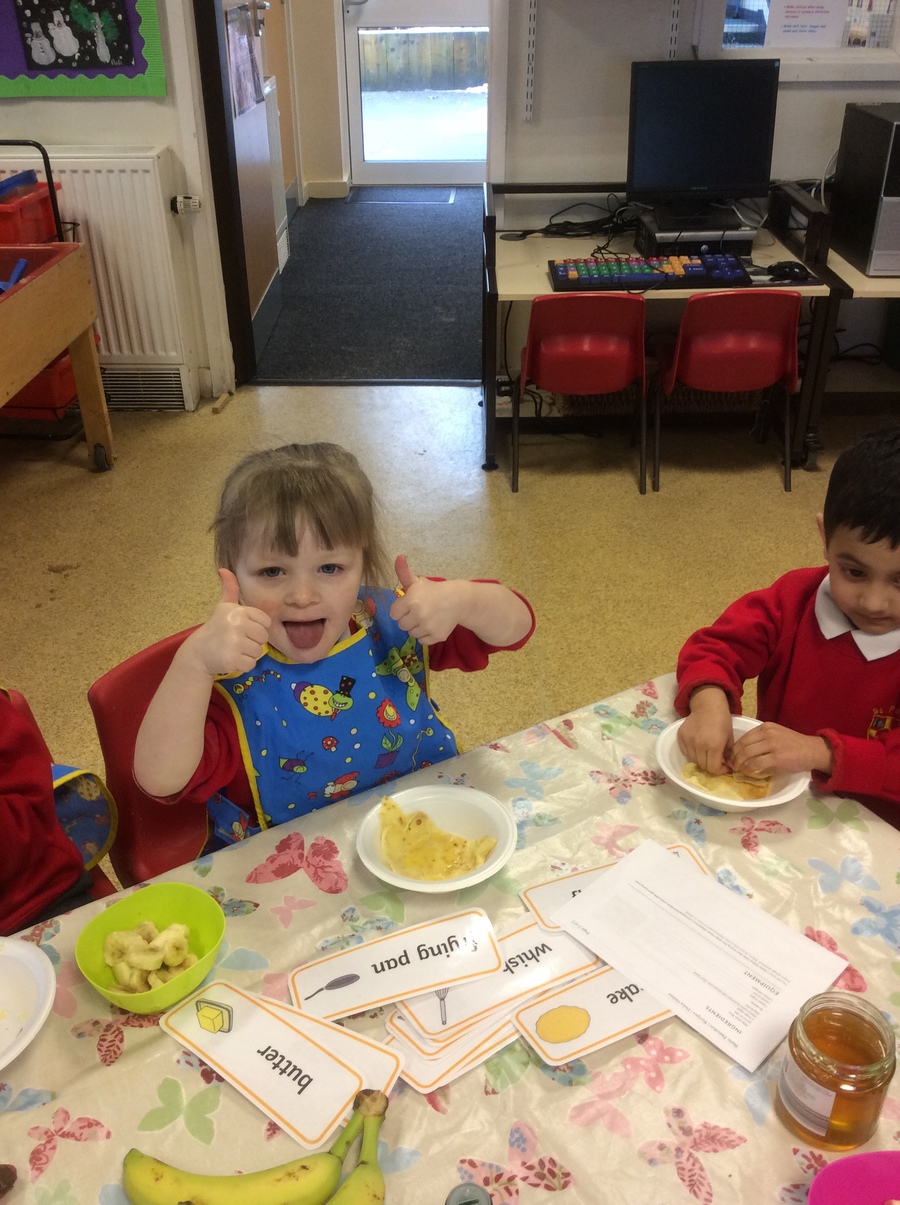 World Book Day
Thank you to everyone who made a big effort to dress up for World Book Day.
The children's costumes were superb! We had lots of fun hunting for Wally from the book: 'Where's Wally?' around school. The children discussed their favourite books with the adults in Nursery and drew the front cover of their favourite stories. We also made book marks.